Baked Eggs in Tomatoes: A Savory Simple Breakfast
Megan Myers | Stetted
Looking for more ways to enjoy summer's tomato bounty? Try these easy yet elegant baked eggs in tomatoes for your next breakfast.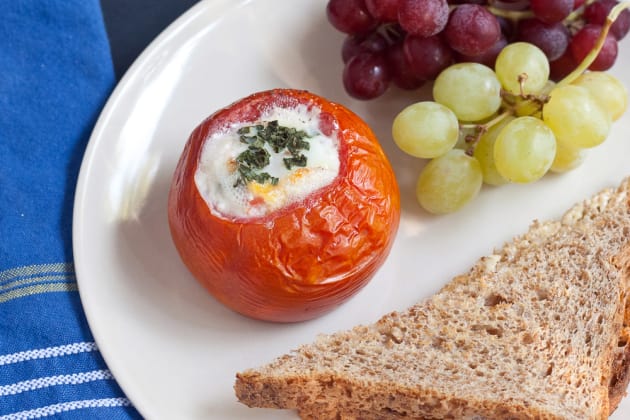 When summer comes around, all I can think about are those first few tomatoes coming off the vine and how I'm going to devour them in sandwiches, on pizza, and in pasta sauces. My tomato love made me start thinking about how I could enjoy them at breakfast as well. Thanks to the gorgeous farm eggs I get every week, I knew right away that the answer was a fresh version of eggs en cocotte.
These eggs are amazingly simple, yet add a bit of café elegance to your breakfast table. Consider serving them up for a summery brunch party or for a special breakfast on your own.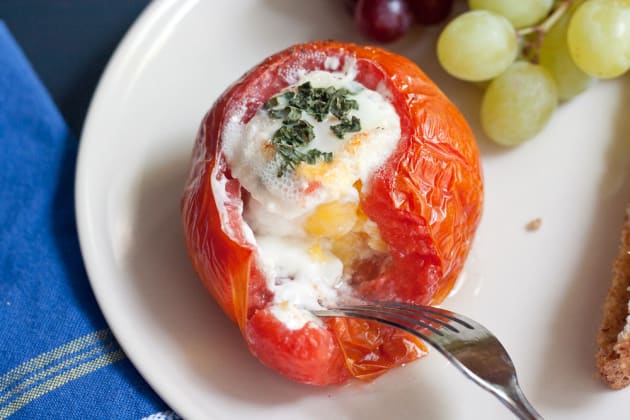 Be sure to let the tomatoes cool a bit after removing from the oven, and handle carefully when transferring from baking pan to plate to avoid the tomato breaking before digging your fork into it. If you like your yolks a little runny for perfect toast dipping, cook for about five minutes less, making sure the whites are set before removing from the oven.
Want more delectable breakfast recipes from Megan? Try her Banana Pancakes Recipe too.
Ingredients
8 Eggs
8 Tomatoes, medium
2 tablespoons Fresh Basil, minced
Salt
Black Pepper
Directions
Preheat oven to 450°F.
Cutting at an angle, core the tomatoes. Use a spoon or melon baller to remove tomato flesh from the inside, taking care to not cut into the sides of the tomatoes. If your tomatoes do not sit flat on their own, slice a very small piece off the bottom so they do not roll.
Crack one egg into each tomato cavity. Top with basil and sprinkle with salt and pepper.
Bake for 20 minutes, until eggs are set. Let cool slightly and use a large spatula to serve.
Tags: Breakfasts, Baking, Tomatoes, Eggs, Summer, Easy