The Pioneer Woman Review: "Five Girls and a Baby"
Emily Caruso | Jelly Toast
Did you catch this week's episode of The Pioneer Woman? Follow along now for an in-depth recap.
This week is all about girls on the Drummond Ranch.
Ree is inviting her favorite homeschooling friends to the Ranch for an evening full of good food and girl talk - no kids allowed. Well, except for Duke, her friend Kari's new baby.
With school out for the summer, Ree and her friends are taking the opportunity to get together, without the kids, which is probably a pretty rare event.  Ree goes above and beyond by sending a limo (yes, a limo) to go pick up all of her friends and bring them out to the ranch. I hope they're wearing their fancy pants for this party.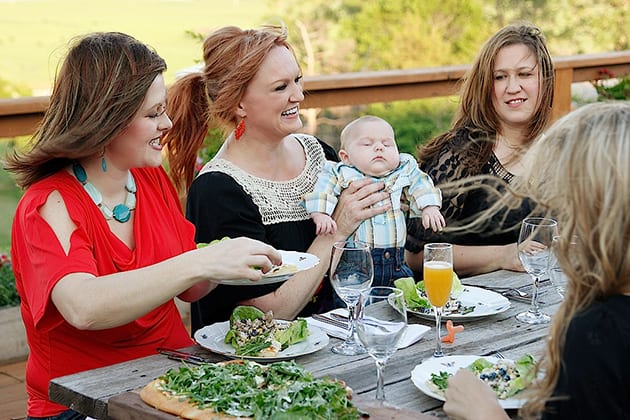 For her dinner with the girls, Ree is making a Fresh Herb Pizza. The dough is made from basic flour, yeast, water salt but has the addition of lovely, fruity olive oil - perfect for a pizza. 

After the dough has rested, she rolls it out and places it on an oiled basic baking sheet. The pizza dough gets topped with salt, pepper, olive oil and large slices of fresh mozzarella. For the herbs, Ree tosses together arugula, basil, parsley and a bit of olive oil and balsamic vinegar in a large bowl. The pizza gets baked in the oven and the dressed herbs get added after the pizza is baked. The warmth from the pizza wilts the herbs just a touch, but still retains their fresh flavor.

I love the idea of this fresh, 'light' pizza, even though all of the cheese probably negates the lightness. It's pretty hard to have pizza without cheese, though.

For dessert, Ree is making super simple Mini Cherry Cheesecake Shooters. In the bowl of a stand mixer, Ree beats together cream cheese and sweetened condensed milk for the no-bake cheesecake filling and then spooning it into a piping bag for easy dessert assembly.

These cheesecake shooters couldn't be any easier to make. Ree is serving the shooters in mini wine glasses... adorable. Into the glasses, she layers crushed graham crackers, a bit of piped cheesecake mixture, canned cherry pie filling, and then tops the whole thing off with chopped, slivered almonds. I love the idea of a simple dessert recipe, and this one seems like it has a lot of room for adaptation. Perhaps some lemon or orange zest into the filing with a variety of fruit toppings - the possibilities are endless.

Next up is Ree's Summer Chicken Salad. She starts by pounding some boneless skinless chicken breasts with her rolling pin in order to create evenly thin pieces.

They get a simple seasoning of salt and pepper before being put onto a hot grill pan. While the chicken is grilling, Ree mixes up some grilled, shaved corn, chopped celery, red onion and chopped dill. Into the chopped veggies, Ree adds the grilled and sliced chicken. The dressing for this salad is very interesting, and she utilizes one of her trusty Ball Mason Jars to mix it up. It is made up of mayo, sour cream, feta cheese, lemon juice, half and half (this is PW we're talking about, nothing is diet) and salt and pepper.

A quick shake, pour and toss and this salad is almost ready for the party. The one last finishing touch that is seemingly very odd are the fresh blueberries that she tosses in. I've never heard of this before, but I often put grapes in my chicken salad, so perhaps the blueberries would give a similar sweetness. I'm definitely open to the idea.

Ree serves this lovely chicken salad in little butter lettuce cups. What is it about serving chicken salad in a lettuce cup that makes it seem so fancy and lady-like? It always reminds me of eating chicken salad with my grandma. In a good way, of course.

As a little cocktail treat to go along with all of this lovely food, Ree is serving up some Peach Bellinis to all of her girlfriends. Ree blends simple syrup, frozen peaches and lemon zest to create a peach puree. To assemble the bellinis, Ree adds a bit of the peach puree and tops it with some champagne. That's it, and it's all it needs to be.

Ree's friends arrive in their limo and are enamored with the beauty of the ranch - not to mention the food. Needless to say, they were not disappointed by their evening at the ranch. This episode was filled with summery, light and fresh recipes that were a nice change from the cowboy fare that we usually see on the show. Not that I mind a juicy, grilled steak every now and then.

Thank you for reading... and be sure to visit our section of Pioneer Woman recipes!
 

Tags: The Pioneer Woman, Food Network, Cooking Shows