Spinach Stone Fruit Salad: Summer's Best Fruit Made Dinner
Julia Mueller | The Roasted Root
Eating in-season makes dinner easy, and sweeter! Stone fruit and spinach create one spectacular salad.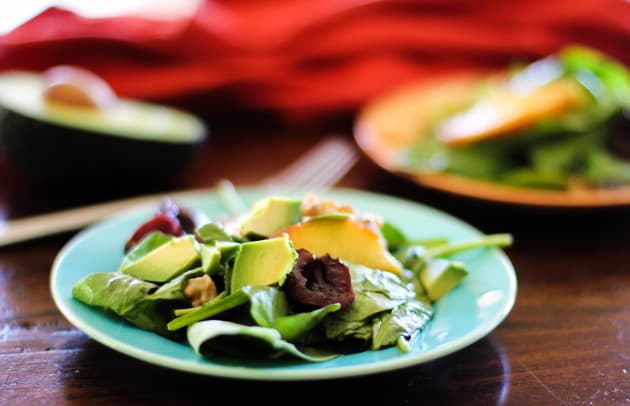 When it comes to salad, I find the biggest successes come from using fresh in-season produce. This way, the salad is bound to turn out with abundant flavor, and it is even more cost effective to buy produce that is in season.
Stone fruit season is by far my favorite fruit season. Peaches, plums, nectarines, apricots and cherries are so bright, sweet and juicy. Brightening up a green salad with stylish stone fruit adds great flair, flavor, and texture and makes a salad so refreshing on a hot day. Adding a combination of fruit and nuts to a salad always results in a winning dish.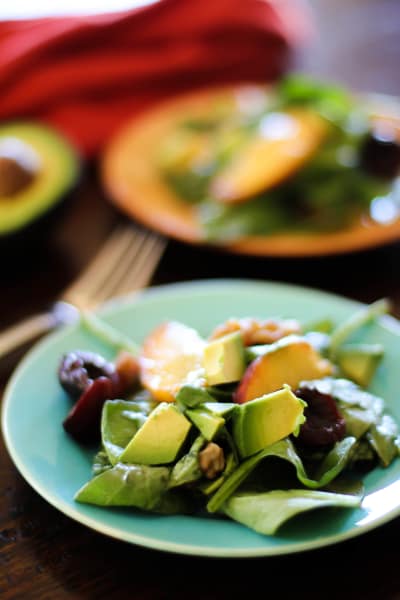 This salad comes with a homemade white wine vinaigrette recipe. Simply reducing white wine on the stovetop and mixing it up with other vinaigrette ingredients creates a unique and very flavorful dressing.  The first time I made this salad, I didn't add any cheese but I'm confident that feta or blue cheese crumbles would make a delicious accompaniment. You could also add grilled salmon or chicken to the salad for some extra protein!
Now, quick! Go make this before stone fruit goes out of style!
Ingredients
dressing:
1/2 cup Sweet White Wine
2 tablespoons Walnut Oil
1 tablespoon White Wine Vinegar
2 teaspoons Honey
dash Salt, to taste
dash of Black Pepper, to taste
salad:
1 cup Fresh Cherries, pitted and chopped
1 Peach, pitted and sliced
1 Nectarine, pitted and sliced
1 Avocado, diced
5 cups Baby Spinach
3 tablespoons Walnuts, roasted
Directions
In a small skillet or saucepan, heat the white wine until it is reduced to 2 tablespoons, about 8 to 10 minutes.
Remove from heat and whisk in the oil, vinegar and honey. Add a sprinkle of salt and pepper to taste.
To serve the salad, toss all of the ingredients together in the white wine dressing. Serve immediately.
Tags: Spinach, Vegetarian, Salads, Fruit, Vegetables, Healthy Eating, Healthy, Wine