Shrimp and Artichoke Orzo: An Easy Meal with Pantry Staples
Lisa Grant | Jersey Girl Cooks
Shrimp and Artichoke Orzo pasta is a delicious way to end the day. You'll love that it's made quickly, and with goodies from the pantry.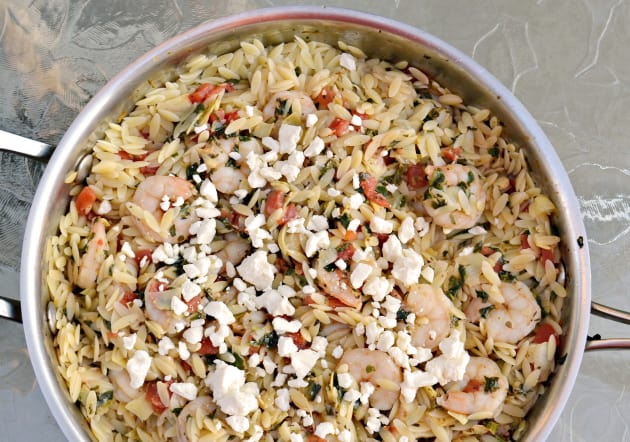 Shrimp are no stranger to my kitchen. They are one of my favorite ingredients when it comes to making a quick and easy meal. I always keep several bags of frozen, cleaned shrimp in my freezer.  They can be defrosted in ten minutes.  I usually put them in a colander and run cold water over them while I am prepping the other ingredients.
I love the combination of shrimp with pasta but also make easy salads with shrimp in the summer. They are so versatile that I could cook them three times a week but never make the same meal twice.  From shrimp risotto to Asian noodle bowls  to po boys, I've never met a shrimp dish, I didn't like.  When Forrest Gump talked about shrimp, he was a smart man. I think I might love them as much as he did.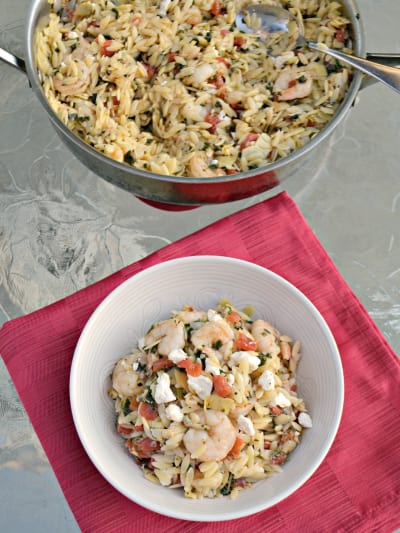 In creating this orzo dish, I realized I had no fresh veggies in the fridge. No problem. Some canned artichokes and tomatoes go perfectly. These are two more ingredients that you can always find in my pantry. I added some frozen spinach for color and thought the feta cheese would give the dish a nice Mediterranean flair. Besides, I was out of Parmesan cheese.
My family loved this meal and next time I will be doubling the recipe so we have lots of leftovers for lunch the next day.  I just don't think I can go a week without my shrimp fix!
Don't forget the Red Lobster Biscuit Recipe to go with all that shrimp, Lisa!
Ingredients
1 12 ounce box Orzo Pasta
2 tablespoons Olive Oil
2 cloves Garlic, crushed
1 can Artichoke Hearts, chopped
1 can Diced Tomatoes with Basil and Garlic
1 cup Chopped Frozen Spinach
1/2 tablespoon Dried Basil
1 pound Jumbo Raw Shrimp, cleaned and deveined
4 ounces Feta Cheese, crumbled
Directions
Bring a large pot of water to a boil. Add orzo and cook for 6 minutes or until al a dente.  Drain pasta and keep warm. Reserve 1/2 cup of pasta water.
While pasta is cooking, heat the oil on medium heat, in a large sauté pan. Add the garlic, artichokes, tomatoes and spinach. Cook for 10 minutes or until sauce is bubbling. Reduce heat to low and add basil and shrimp. Mix well. Cook for 2 more minutes or until shrimp start to turn pink.
Mix in the warm orzo and ½ cup pasta water. Cook for a few minutes until everything is heated and sauce thickens.
Place the orzo in a large bowl and mix in the feta cheese before serving.
Tags: Easy Dinners, Dinners, Shrimp, Seafood, Pasta, Italian