Seeded Loaf: Studded with Poppy Seed, Flax, Anise and More
Kate Donahue | Food Babbles
Bring a Seeded Loaf to your next potluck. It's perfectly unique, and heavenly too.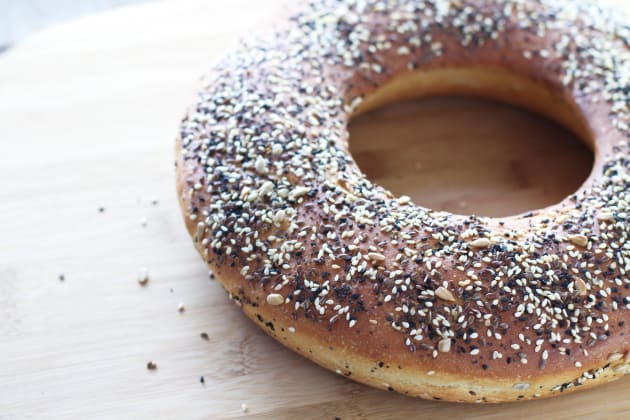 No, this isn't a giant Everything bagel you're looking at, but my choice to shape my bread into a ring instead of a boule unintentionally made it look that way. Funny though!
It wasn't too long ago when I wouldn't give seeded bread of any kind a second glance. They didn't "wow" me, and quite frankly I didn't feel like seeds added a thing to bread other than getting stuck in my teeth.
Sure, if you gave me a good loaf of rye with flavorful caraway seeds in it, I'd be all over it but beyond that, I wasn't convinced seeds had a place in my bread.
For me it's all about taste and if the seeds aren't adding something taste-wise, then really, what's the point? Then I started sampling seeds on bread a little more frequently and came to appreciate the subtle flavor of sesame seeds or the light crunch of the seeds on a Hard Poppy Seed Roll. Before I knew it, I was officially a seeded bread convert!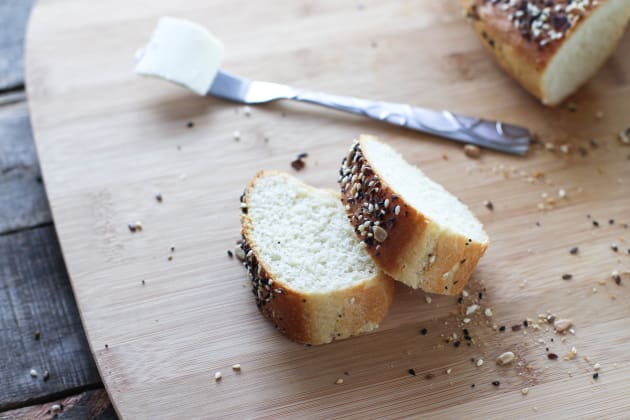 That's when I started going hog wild and putting seeds in and on everything! But only now have I perfected the shower of seeds.
Tasting nothing like an Everything bagel, this buttery Seeded Loaf is the perfect seeded creation. Those seeds atop the lovely loaf? Oh, they aren't just there for looks.
With poppy, black caraway, flax, toasted sesame, midget sunflower and anise, these little seeds each bring their own unique flavor to the party and all meld perfectly together. They add not only flavor, but a unique texture as well, which makes this simple loaf of bread something special indeed.
Ingredients
3 1/2 cups All-Purpose Flour
2 1/4 teaspoons Instant Yeast
2 tablespoons Granulated Sugar
1 1/2 teaspoons Salt
1 1/2 teaspoons Baking Powder
1 1/3 cups Boiling Water, very warm (115-125°F)
3 tablespoons Unsalted Butter, melted
5 tablespoons Seed Mix
Directions
In a large bowl, in the bowl of a stand mixer fitted with a dough hook whisk together with flour, instant yeast, granulated sugar, salt and baking powder.
With the mixer on medium-low speed, slowly pour in the warm water. Once all the water has been added, increase speed to medium and knead until a smooth, soft dough forms and begins to pull away for the sides of the bowl, about 6 minutes.
Form the dough into a round and place into a large, lightly oiled bowl and turn to lightly coat on all sides. Cover with plastic wrap and set at warm room temperature to rise until doubled in size, about 1 hour.
Using a bit of the melted butter, brush the inside and sides of a ring mold or an 8-inch cake pan.
Gently deflate the risen dough and form into a 7-inch round. If making a ring, make a hole in the center and fit into a ring pan. To make a boule, shape the dough into a 7-inch round and place in cake pan.
Brush top and sides of dough with butter, you may not use all the remaining butter. Sprinkles with seed mixture and set the dough aside to rise at warm room temperature until the dough fills the pan and has risen over the top of the pan 1-2 inches, about 30-45 minutes.
Preheat oven to 375°F. Bake bread in preheated oven for 40 minutes and well browned.
Remove loaf from oven and from pan. Cool completely on a wire rack.
Notes
I use King Arthur Flour's Artisan Bread Topping for this loaf, but any seed mixture you want to put together or purchase will work.

Tags: Bread, Baking, Side Dishes