Raspberry Jam
Tracy R. | Sugarcrafter Updated
Raspberry jam is a simple way to capture summer's bounty, all year long. You'll especially love that come December!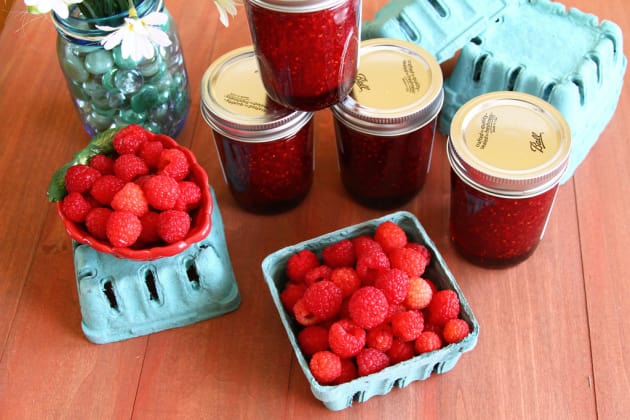 Summer is in full swing when raspberries arrive in my neck of the woods, and the smell of raspberries, sugar, and a touch of lemon simmering away on the stove is one of my favorite parts of the season.
When seeded, I find raspberry jam to be a very versatile jam for baking as well, as it makes for an excellent layer in a fluffy white cake or filling for a thumbprint cookie - but, on its own, I prefer the bit of crunch that comes from leaving the seeds in.
One of my favorite variations is Raspberry Chambord Jam, in which I simply add about a fourth a cup of Chambord to the pot with the rest of the ingredients. It may take just a bit longer to thicken, but the resulting flavor is worth the extra wait.
Don't forget, it's still rhubarb and strawberry season in some parts of the country, and I bet you'd love my Strawberry Rhubarb Jam Recipe too!
Ingredients
9 cups Crushed Raspberries
5 cups Granulated Sugar
4 tablespoons Lemon Juice
Directions
In a large sauce pan, combine the raspberries, lemon juice, and sugar.
Bring to a boil until the sugar dissolves and then continue boiling, stirring frequently, until the mixture thickens and you reach the gel stage.
Prepare your canning supplies. Bring the temperature of the glass jars up by processing them in hot water for several minutes, and heat a few cups of water in a small saucepan for the lids.
If the gel stage has been reached, skim off any foam and ladle the hot jam into the hot jars, leaving 1/4″ headspace.
Place the lids and bands on top, screwing on the bands just until fingertip-tight.
Place the full jars back into the boiling water and process 10 minutes.
Remove from the water and place the jars on a towel.
Let the jars cool. The seals should suck down (you'll hear a popping noise as they do). 
Notes
- For one cup of crushed raspberries, you will need about 1.5 cups of fresh raspberries.
Recommended
Tags: Raspberries, Jams, Canning, Preserving, Summer