Protein Brownies: Packed With Chocolate Too
Steph S. | ::steph chows::
Packed with protein and topped with delicious frosting, you'll love these healthy brownies!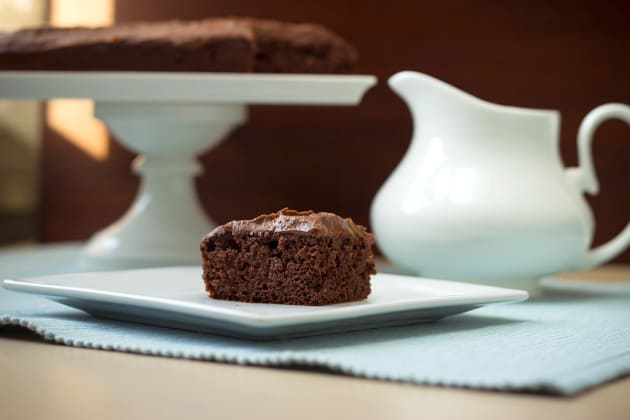 Protein and brownies, I know, those two words aren't ones you normally think of going together. But if you can bake a brownie without fat and packed with protein… and they taste delicious, wouldn't you do it too?
I saw this recipe posted on a friend's Facebook page, it was one of those "shared" recipes that gave no credit to the author and I couldn't track down where it originated from… so this isn't my brain child, but I did make some changes to the original posting. Whoever originally came up with this, thanks for the inspiration!
Full disclosure, these are made with Greek yogurt, in both the brownies and frosting. If you don't like Greek yogurt, you probably will not like these. I tried to pass them off onto my husband, John, (who HATES Greek yogurt) and he immediately knew I snookered him and was not pleased. But if you DO like Greek yogurt like me, these are amazing!!
And who can say no to a creamy dreamy frosting like this?? Make sure you keep these in the fridge after the first day, since the frosting isn't cooked like the brownies. Otherwise you will have all kinds of fun science experiment things growing on them… not that I learned that the hard way or anything…
These don't taste exactly like their fat and sugar laden counterparts, but they are freaking delicious, plus they are a great excuse to eat brownies as a healthy snack. Don't you agree??
Enough chit chat, go make these!! Or make the frosting and just eat it by the spoonful, I won't judge.
You could also dip my Almond Biscotti Recipe in that delicious frosting, just sayin'.
Ingredients
3/4 cup Plain Greek Non Fat Yogurt
1/4 cup Skim Milk
1/3 cup Splenda
1/2 cup Unsweetened Cocoa Powder
1/2 cup Chocolate Protein Powder
1 Egg
1 teaspoon Baking Powder
1/4 cup Whole Wheat Flour
frosting:
2 tablespoons Chocolate Protein Powder
1/2 cup Plain Greek Non Fat Yogurt
2 tablespoons Peanut Butter
2 tablespoons Unsweetened Cocoa Powder
2 tablespoons Splenda, or more to taste
Directions
Preheat oven to 350°F.
For the brownies: blend together yogurt, milk, sugar and egg in a medium bowl. In a small bowl stir together cocoa, protein powder, baking powder, and flour.   
Gently stir dry into wet until just incorporated and pour into a greased 8x8 inch pan.
Bake for about 20-25 minutes. Don't over bake, err on the side of under baking.
For the frosting: In a small bowl blend together all ingredients, spread on top of cooled brownies and serve.
Notes
If you don't want to use Splenda, substitute in ½ cup white sugar in brownies and to taste in frosting.
Tags: Healthy Eating, Healthy, Baking, Bar Desserts, Desserts, Chocolate