Monster Cookie Dough Truffles: As Decadadent As You Imagine
Aimee Shugarman | Shugary Sweets
All the fun of a monster cookie in delicious, bite sized truffles! Be a hero: make them today.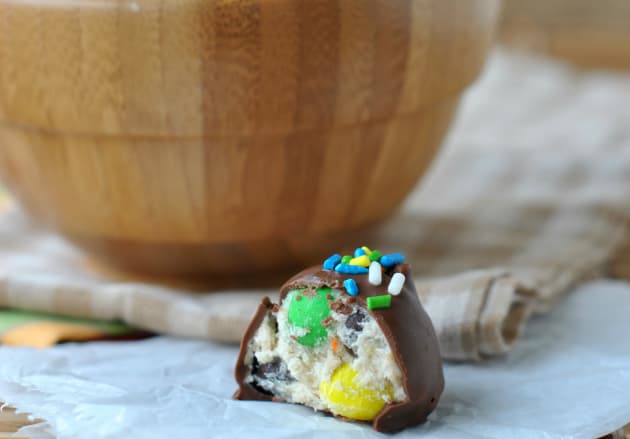 Every once in a while I crave cookie dough. Normally when I bake cookies, eating the cookie dough just isn't my thing. My kids however can't seem to keep their hands out of it.
Which is why an eggless cookie dough is a great option. And dunking that cookie dough in chocolate makes it a complete dessert.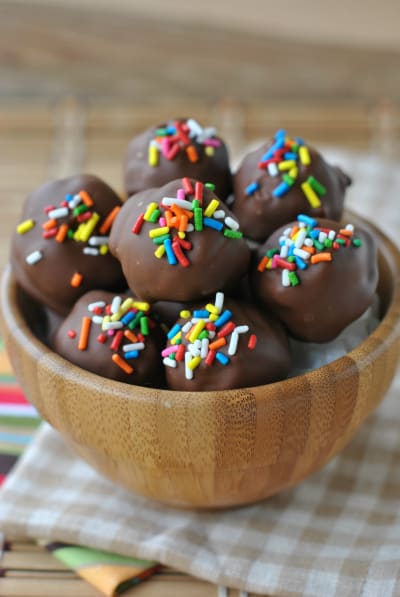 Monster cookies have been around for many years. I tried to find the origin for you all, but it seems there are many varieties. Most often though monster cookies consist of a basic cookie dough with oats, chocolate chips and M&M candies. You may even see raisins thrown in too, but my kids would never go for that!
Today's truffle is a perfect marriage of soft, sweet monster cookie dough with a delicious chocolate shell. And of course sprinkles. Because sprinkles make everything happy! I used Peanut Butter M&M's (not peanut) to add a little extra flavor to these truffles. Feel free to use your favorite variety, or even Reese's Pieces.
If you're as in love with truffles as I am, make sure you try my Funfetti Cookie Dough Truffle Recipe!
Ingredients
4 ounces Cream Cheese, softened
1/2 cup Unsalted Butter, softened
3/4 cup Light Brown Sugar
3/4 cup All-Purpose Flour
1/2 cup Quick Cooking Oatmeal
1/2 cup Chocolate
1 cup Milk Chocolate M&Ms
12 ounces Chocolate Candy Melts, melted
Sprinkles, for garnish (optional)
Directions
Beat butter and cream cheese in a large mixing bowl for 2-3 minutes until creamy. Beat in sugar and flour until completely combined. Fold in oats, chocolate chips and candy.
Drop by one tablespoon scoop onto a parchment paper lined freezer safe cookie sheet. Freeze truffles for about 2 hours.
Using a toothpick, dip frozen truffle into melted chocolate coating. Tap on side of bowl to remove excess. Immediately add sprinkles for garnish.
Notes
If you didn't use a tablespoon cookie scoop, you may need to roll the cookie dough into balls before freezing.

Tags: Homemade Candy, Truffles, Chocolate, Desserts, Snacks