Chopped Review: Mochi Obliged
Stephie Predmore | Stephie Cooks
A new episode of Chopped brought with it a new basket of unusual ingredients. Who won the latest challenge?
This week on Chopped, the chefs faced unusual basket ingredients such as cilantro chutney, ivy gourd, and mochi. While some of the contestants knew immediately what to do with these ingredients, it was those who were not necessarily familiar with them that came out on top.
The Contestants:
Cathy, Executive chef from Orange County, California
Jason, Chef and owner from Santa Ana, California
Regina, Sous chef from Pasadena, California
Cole, Chef de cuisine from Los Angeles, California
This Week's Judges: Scott Conant, Amanda Freitag, and Maneet Chauhan.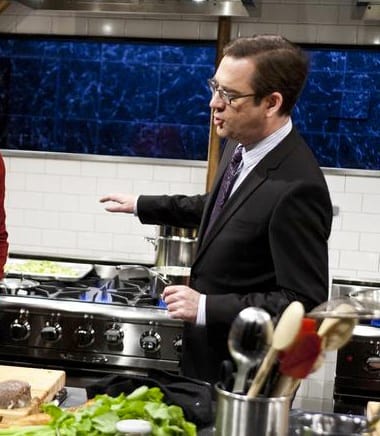 The Appetizer Round: The chefs had 20 minutes to create an appetizer recipe using escargot, cilantro chutney, biscuit dough, and merguez.

While Cole and Jason served the judges very similar dishes, the judges felt that Cole simultaneously embraced and transformed the basket ingredients in his Sauteed Lamb Sausage with Biscuit Croutons, while they felt that Jason failed to really transform the ingredients for his Pan-Roasted Marguez with Escargot.

Cathy's Escargot Empanadas were a good idea, though poorly executed because they were undercooked. Regina, however, served the judges Sauteed Merguez that was improperly executed and did little to impress, sending her home before the dinner round.

This was not surprising, given the almost debilitating nerves that she demonstrated during this first round; a second round in the Chopped kitchen might have just put her over the edge entirely.

The Dinner Round: The contestants had 30 minutes to create an entrée containing dorado, cherry wheat beer, country-style pate, and ivy gourd.

Jason and Cole again took similar directions with their fish dishes in this round, while Cathy went a somewhat different direction with her dish. Jason's Pan-Roasted Dorado was again fighting it out with Cole's Pan-Seared Pate and Dorado, neither of which made proper use of the ivy gourds.

While Cathy's Mediterranean-style Dorado made good use of the ivy gourd, it was overwhelmed with too much pate and too many olives. These mistakes sent her to the chopping block, leaving the nearly identical chefs to battle it out in the dessert round – and hopefully create two unique dishes instead of two slightly different versions of the same dish.

The Dessert Round: The two finalists had 30 minutes to create a dessert using dehydrated chocolate covered strawberries, hemp milk, ataulfo mangos, and mochi.

Jason wowed the judges with the flavors in his Mango Dessert Soup and his use of the mochi, though they felt that his dish lacked any real sense of unity. Cole also impressed the judges with the flavors in his Hemp Milk and Mango Sorbet with Chocolate Covered Strawberry Curd, but the judges felt that the portion was a bit too small – a good sign, if you ask me, since that means they wanted to eat more of it.

This desire for more of Cole's dessert must have been the thing that put him over the edge, as they awarded him the $10,000 prize and the title of Chopped Champion.

To be honest, his admission at the beginning of the show that he did not want to trash talk, but rather let his food speak for him, clued me in that he was a definite contender to win. It is not unusual that the chefs who walk the walk instead of just talking the talk take home the prize.

NOTE: Be sure to visit our ever evolving section of Food Network recipes.
 

Tags: Chopped, Cooking Shows, Food Network