Chopped Review: Break a Crab Leg!
Stephie Predmore | Stephie Cooks
Chopped asked its contestants to make a dish out of crab this week. As well as many other ingredients, of course.
This week's episode of Chopped started out with a rough and uncreative appetizer round, but improved as the chefs got their footing during the entree and dessert rounds.
The Contestants:
Josie, Personal chef from New York City
Chris, Chef de cuisine from Los Angeles
Betsy, Sous chef from New York City
Lucas, Sous chef from New York City
This Week's Judges: Marc Murphy, Maneet Chauhan, and Geoffrey Zakarian.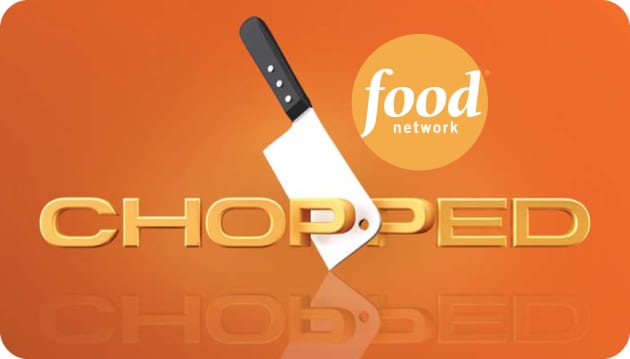 The Appetizer Round: The chefs had 20 minutes to create an appetizer using babaco, gio lua, chive blossoms, and quark. If it has a strange or difficult-to-pronounce name, it was in this basket.

The judges were really hoping that these unfamiliar ingredients would spark some real creativity in the contestants, but for the most part, this was not the case. 

Josie's Gio Lua with Chive Blossom Pancake and Lucas's Open-Faced Taco (isn't that just a tostada?) came the closest to thinking outside the box, though they both still had a number of issues. Betsy's Gio Lua Crostini had some good elements, but in general disappointed the judges with its lack of development in flavor and technique.

Chris, however, was the biggest disappointment by far in this round. Geoffrey Zakarian stole the words out of my mouth when he called Chris's Pan-Seared Gio Lua "lazy." He did barely enough to prove that he is actually a chef, and certainly not enough to keep him in this competition.

The Dinner Round: The contestants had 30 minutes to create an dinner recipe containing crab legs, sweet vermouth, green asparagus, and Mexican wedding cookies. It would appear that putting dessert items in the savory round baskets is a new Chopped trend – one I'm sure the contestants wish would end.

Betsy served Crab Leg Hash, which the judges felt was hearty and delicious but lacking enough crab. Josie created Crab and Sweet Potato Chowder, served with a giant piece of crab shell for Maneet Chauhan. That could have easily gotten her sent home, but luckily for her Lucas spent far too much time making a very mediocre pasta for his Crab and Asparagus Pasta, and did not spend enough time focusing on the actual basket ingredients. In spite of his disparaging remarks against personal chefs, he was sent home while the personal chef went on to the dessert round.

The Dessert Round: The two remaining contestants had 30 minutes to create a dessert recipe using red bean paste, jicama, cilantro, and bacon jam. It is baskets like this one that make me glad I am not a judge on this show.

Josie pulled inspiration from Chinese New Year with her Red Bean Cake, though the cake was not as successful as she had hoped, while her Bacon Jam and Chocolate Mousse was a great success. Betsy was also only halfway successful with her dish; her Sweet Buttermilk Pancake was visually stunning and a good approach to the basket, but her frozen yogurt simply had too much bacon.

In the end, it was the appetizer round that put Josie just a bit ahead of Betsy, wining her the title of Chopped Champion and proving to her father – and Lucas – that personal chefs actually are worth their salt.

Thanks for reading and remember to bookmark our section of Food Network recipes!

Tags: Chopped, Cooking Shows, Food Network
Sign Up for Weekly Personalized Recipes. FREE!