Aperol Spritz: A Summery Italian Cocktail You'll Love
Casey Barber | Good. Food. Stories.
The Aperol Spritz, made with bittersweet orange liqueur, Prosecco, and your favorite fizzy soda, is a classic Italian cocktail that's tailor-made for sunny summer afternoons.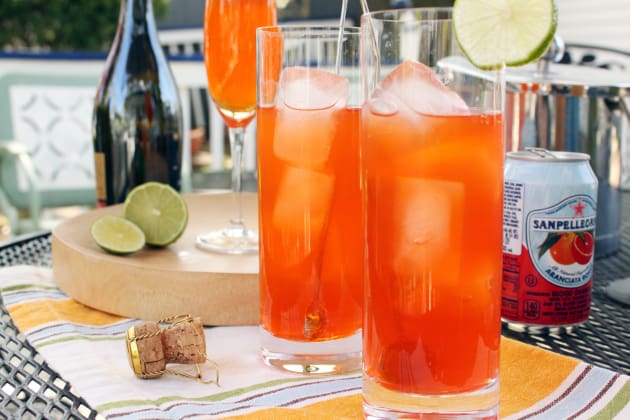 Whether you're watching the gondoliers cruise by on the canals of Venice, sitting in the shade of an umbrella at the foot of the Spanish Steps in Rome—or just sweating away in your New Jersey backyard wishing you could be on holiday in either of those places—there's one drink that will make you feel cool, cosmopolitan, and oh so Italian no matter where you're relaxing this summer: the Aperol Spritz.
With its sunny hue and fizzy, sweet orange taste, the Aperol Spritz is Italian sunshine in a glass.
Aperol
 itself is a slightly bitter orange
aperitif
, sort of a cross between Grand Marnier and Campari, that doesn't hit you over the head with a high alcohol content but gives you a pleasant buzz  when mixed with sparkling wine. Topped with more bubbly soda, the drink makes perfect sense on summer afternoons as a happy hour sipper, a peppy refresher that gives an easy transition into evening.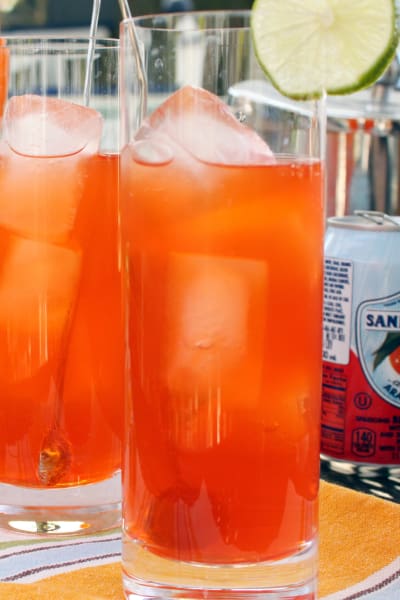 Though on the back of the Aperol bottle helpfully gives a base ratio for filling your glass, I like to adjust my cocktail to my tastes, as I imagine you will too. (FYI, if you have the good fortune to be ordering and drinking one of these in Venice, you might hear it referred to simply as "Spritz." Here, in the land of white wine spritzers and other fizzy vino-based drinks, it's probably best to give it the full name if you want the bartender to mix things up properly.)
There's no need for expensive French Champagne here—bubbly, affordable Prosecco is just as fantastic and festive and it's Italian to boot. (Confession: I can't tell you the last time I drank real Champagne. My fridge is always stocked with at least two bottles of Prosecco, none of which I've ever paid more than $12 for, and for special occasions, I get myself some Gloria Ferrer or Schramsberg sparkling wine from California!)
As the cherry—er, orange—on top, I swap out the club soda or seltzer water that traditionally acts as filler and extra carbonation for the Spritz with blood orange soda.
San Pellegrino's Aranciata Rosso
, a recent addition to the well-known family of Italian fruit sodas, is another culturally appropriate choice for the beverage. It's a one-two-three punch that puts a spring in your step but still keeps you light on your feet. 
Saluté!
Ingredients
2 ounces Aperol
4 ounces Prosecco
2-4 ounces San Pellegrino Aranciata Rosso Soda, to fill glass
Directions
Fill a Collins glass, rocks glass, or sturdy wine glass with ice. 
Pour the Aperol over the ice, then gently pour the Prosecco down the side of the glass, taking care not to let it fizz up too much. 
Fill with soda to taste.
Notes
You may use club soda or seltzer in place of San Pellegrino if you like.

Tags: Italian, Cocktails, Drinks, Summer, Party Food