Watermelon Strawberry All-Fruit Smoothie: Thirst-Quenching Summer Fun
Doug Latham | Pocket Change Gourmet Updated
Drink up this Watermelon Strawberry All-Fruit Smoothie at your next barbecue! Quick and simple, with the best of summer's produce.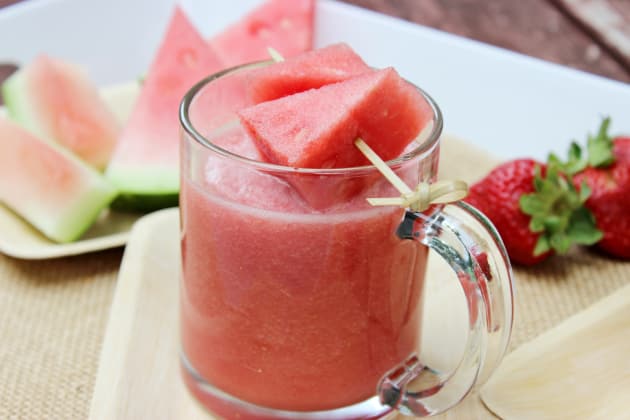 Sitting on the deck, visiting with friends on a warm Summer afternoon, it doesn't get much better than that. Oh wait... how about if you add in good food and a Watermelon Strawberry All-Fruit Smoothie? Now, the afternoon just got better.
Watermelon is a staple in our kitchen during the Summer. I love to cut large chunks and keep it in the fridge, nice and cold for snacks. And for picnics and potlucks, watermelon on a stick just can't be beat.
As for the strawberries, well we love those almost year round. But right now, it's strawberry picking season in our area. Nothing compares to a delicious, juicy, fresh picked strawberry.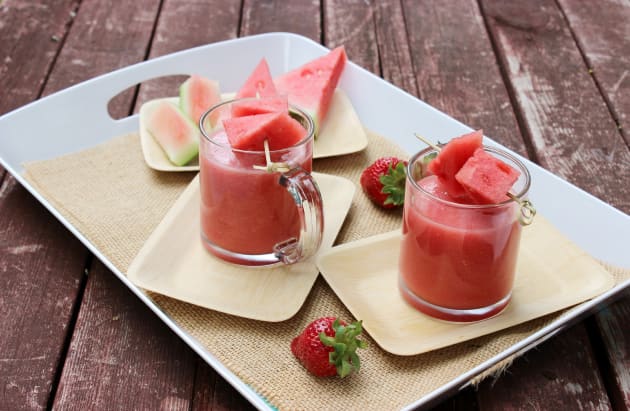 So when we paired the two juicy fruits together, we knew it would be a hit! Not only was this Watermelon Strawberry Refresher a hit with my boys and wife, it's also packed with vitamins, but we won't tell them that.
Ingredients
1 3/4 cups Watermelon, sliced and rind removed
3/4 cup Strawberries, cleaned and quartered
1 1/4 cups White Grape Juice
Directions
Clean watermelon and strawberries and place in blender.
Add grape juice and blend until smooth.
Skim off excess froth if preferred.
Notes
Garnish with watermelon or strawberries on skewer if desired.

Source: Adapted from The One & Only Smoothies, Shakes and Juices Cookbook by Wendy Sweetser

Tags: Smoothies, All-Fruit Smoothies, Drinks, Watermelon, Strawberries, Blender