Tomato, Basil & Roasted Garlic Pane Bianco: Unique Italian Taste
Kate Donahue | Food Babbles
Looking for a bread recipe that is exploding with flavor? That includes tomato, basil and roasted garlic? You've come to the right place.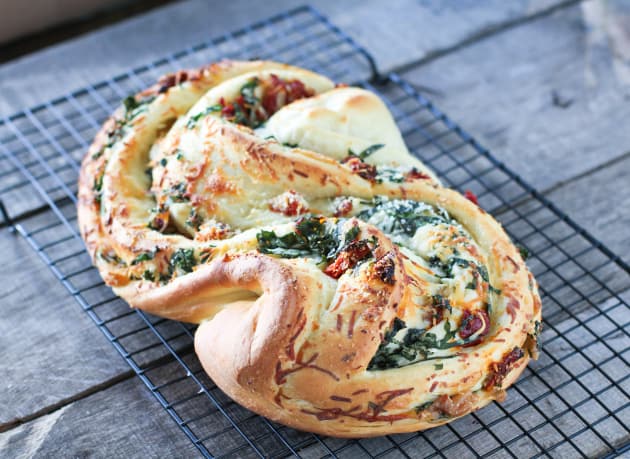 When it comes to baking, for me, appearance and presentation is almost as important as taste. Sometimes, like with a quick bread, you don't have much control over what the end product will look like beyond sprinkling something on top to jazz it up a bit. You know you'll end up with a rectangular, loaf shape. No big surprise here.
But other loaves of bread can be braided, like a lovely Challah resulting in a bread that is as stunning as it is tasty. This Tomato, Basil & Roasted Garlic Filled Pane Bianco is one of those loaves that truly can be described as breathtaking, with its lovely curves and the little sneak peak of all the flavors your mouth is about to experience.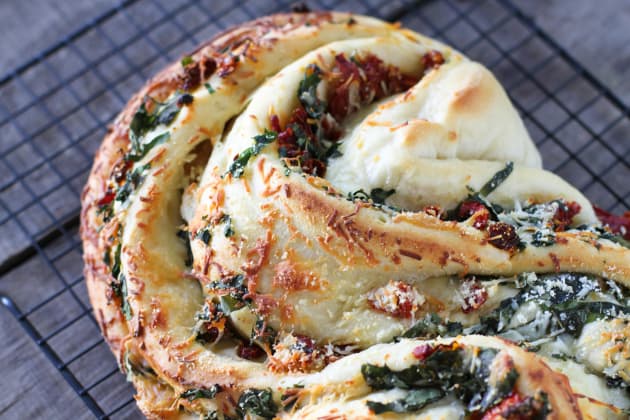 And the assembly is easier that you might think, so don't head for the hills. You can do this! Then you have bragging rights 'cause all your friends and family will think it was an incredibly complex task. Don't worry, your secret's safe with me.
Here I combined the sweetness of roasted garlic with the slight tang of sun dried tomatoes, Italian cheeses and fresh basil, resulting in an eye-catching presentation and an even more impressive taste.
This was baked to be served alongside our dinner... however, no one could wait! While dinner was cooking, piece after piece was torn off, all followed by empty promises that everyone would still be hungry for dinner. They weren't. But who says bread can't be a meal? There are even veggies in here so can I tout this as health food?
I don't know about that, but I do know that this bread will be quickly devoured, so consider yourself warned!
If you're looking for a bread roll that will stay strictly side dish, you'll also love my Poppy Seed Roll Recipe.
Ingredients
1/2 cup Boiling Water, Warm
1/4 cup Sugar
4 teaspoons Instant Yeast
1 cup Low Fat Milk
1/3 cup Extra Virgin Olive Oil, plus 1 tablespoon
2 large Eggs
2 teaspoons Salt
6 cups Bread Flour
2 heads Garlic
8 1/2 ounces Sun-Dried Tomatoes, drained and chopped
2 cups Italian Cheese
2/3 cup Fresh Basil
Directions
In a large bowl or the bowl of a stand mixer fitted with a dough hook, combine water, sugar, yeast, 1/3 cup olive oil, eggs, salt and flour. Knead in the bowl or with the stand mixer until a soft, smooth ball forms, about 10 minutes by mixer and 15 minutes by hand. Place the ball of dough into a lightly greased bowl, turning to coat then cover with plastic wrap and let rise at warm room temperature until doubled in size, about 45 minutes to 1 hour.
Preheat oven to 325

°F

°F. Cut top off of garlic heads. Place in an ovenproof dish and drizzle with 1 tablespoon olive oil and 1 tablespoon water. Cover with foil and bake for 1 hour in preheated oven, uncovering during the last 15 minutes of baking. Set aside.
Line a baking sheet with parchment paper and set aside. Deflate the dough gently and split it into two even pieces. Roll one piece of dough to a rectangle, measuring 22 x 8. Sprinkle dough with half the cheese, basil and tomatoes. Squeeze the roasted garlic from one head and distribute it evenly over the dough.
Starting with one long side, roll into a log lengthwise and pinch edges and seam to seal. Move the log to prepared baking sheet and set seam side down. Using kitchen shears, starting 1/2-inch from one end of the log, snip down the length of the log about 1-inch deep (don't cut all the way through), stopping 1/2-inch from the other end of the dough.Shape the dough into a "S" shape, keeping the cut side up then tuck the ends under the middle of the bread, forming a Figure-8 and pinch the ends together underneath to seal. Repeat entire process with remaining dough. Cover loaves with plastic wrap and let rise at warm room temperature until doubled in size, 45 minutes to 1 hour.
Preheat oven to 350°F. Bake loaves in preheated oven 35-40 minutes, tenting with foil after 20 minutes to prevent over-browning. Remove loaves and transfer to wire racks and cool completely.
Recommended
Tags: Bread, Side Dishes, Vegetarian, Italian