The Pioneer Woman Review: "The Building"
Emily Caruso | Jelly Toast
The Pioneer Woman is back once again! And Food Fanatic is back as well, with another review of her show.
If you're a Pioneer Woman blog fan like me, than you probably have heard about the historic building that Ree and her husband, Ladd, purchased.
The couple is currently in the process of restoring the building to it's former glory. Ree has shared bits and pieces of the project on her blog, but today, we are treated with an entire episode about "The Building."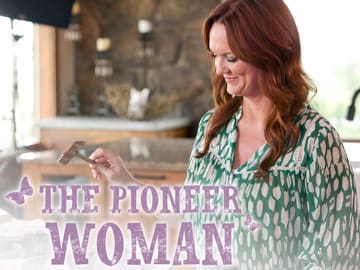 I am itching for any details that Ree might share, including, but not limited to just what they are planning to do with The Building once it is completed?! The work so far has been fascinating and today, Ree, Ladd and his mother, Nan, are meeting with the rest of the project team to discuss plans and next steps for the renovation. Ree will be packing boxed lunches for all of the folks in attendance.

During the episode, we are treated with some wonderful shots of the building in progress. Windows being restored, old tin ceiling tiles being stripped and returned to their former beauty. It turns out that The Building was built in 1907 and used to be the Osage Mercantile on the first floor, and a courthouse on the second floor.

Due to the tunnel that runs from the hotel across the street to the basement of The Building there are rumors that it was, at one point, a speakeasy. They found many empty liquor bottles in the basement, so the rumors could very well be true. It's an amazing old building and based on how Ree and Ladd fixed up the Lodge on their own property, The Building in town is bound to be gorgeous when all is said and done.

Ree is kicking off this boxed lunch meeting by baking some Chocolate Chocolate White Chocolate Chip cookies. These cookies start with a basic base of butter, sugar, eggs and vanilla all creamed together in her trusty Kitchen Aid Stand Mixer.

Ree then sifts together flour, cocoa powder, baking soda and salt until the dry ingredients are nice and smooth. The dry meets the wet and then 3 and a half cups of chocolate chips (dark and white) are added to these classic cookies to add a bit of a twist.

Once baked, these chocolate chip cookies are generously sized and look like they would make any cookie lover happy.

Ree gets to work on the main course for this boxed lunch - Colossal Club Sandwiches. First, she kicks up some mayo to create two different pesto mayos: classic basil and sundried tomato. Flavored mayo is a great idea to turn up the volume on basic club sandwiches.

She then fries up some bacon and arranges all of her fixings to create a sandwich assembly line. Then comes the building of these triple decker sandwiches. Ree layers bread, pesto mayo, roast beef, lettuce, cheese, bacon, tomato, more bread, more pesto mayo, turkey, cheese, lettuce and more bacon.

The whole thing gets topped off with one final pesto-mayo-slathered piece of bread. This sandwich is enormous, or rather, colossal. A few cute toothpicks and some triangular slices finish off these mouthwatering sandwiches.

To go with the sandwiches, Ree fries up some fresh Black Pepper Potato Chips. She uses a mandolin to slice up yukon gold potatoes very thinly and then soaks the potato slices in water to remove some of the starch.

The potato slices get patted dry and then fried up in hot oil until golden and crisp. The chips get drained on paper towels and generously sprinkled with salt and pepper. I know what I'll be doing this afternoon - frying up some fresh potato chips.

To finish up this lunch, Ree is whipping up an Easy Greek Salad which is a nice twist on a classic green salad. Chopped Romaine is the base of this salad and to it Ree adds tomatoes, cucumbers, red onion, black olives and feta cheese. A dressing of olive oil, red wine vinegar, a touch of sugar, garlic and quite a few chopped kalamata olives is shaken up in her trusty Ball Canning Jar and drizzled over the salad.

Ree boxes up the lunches in cute little takeout containers and heads to The Building for the meeting. After a quick tour of the progress of the restored windows and some newly unearthed adornments, Ree, Ladd, Nan and the rest of the crew dig into lunch.

Ree's boxed lunches go over very well with everyone and several people are even able to finish their colossal sandwiches. Unfortunately, we are not given any details on the future plans for The Building. Ree is leaving us hanging once again! I guess I'll just have to drown my sorrows in some of her potato chips. They're bound to make me feel a bit better.

What do you think The Building will be used for?

Tags: The Pioneer Woman, Cooking Shows