The Pioneer Woman Review: "Old Friends, New Friends"
Emily Caruso | Jelly Toast
We're back with a new review of The Pioneer Woman. Read on for the latest from this Food Fanatic favorite.
We're back with The Pioneer Woman after a break during the month of May.
I sure missed Ree and am looking forward to all the dishes she has planned for the summer. On thi's episode, Ree and Ladd are inviting their friends, the Tolsons, over to celebrate one branch of the Tolson family moving back to Oklahoma. As usual, Ree has a huge ranch style dinner all planned out for the party.
Ree kicks things off with an enormous Chocolate Strawberry Layer Cake. I just love when she gets things started with dessert. In the bowl of a stand mixer, Ree mixes together flour, sugar and a bit of salt. Then she melts some butter (at least two sticks) in a pan and whisks in some cocoa powder.
She then briefly mixes this chocolate mixture into the dry ingredients before adding a few eggs and some vanilla. Then the batter is ready to bake. This layer cake is not for the faint at heart. It is going to be four layers of chocolate cake, strawberries, whipped cream and Nutella. I am a huge fan of Nutella recipes and am definitely of the school of that that Nutella makes everything better.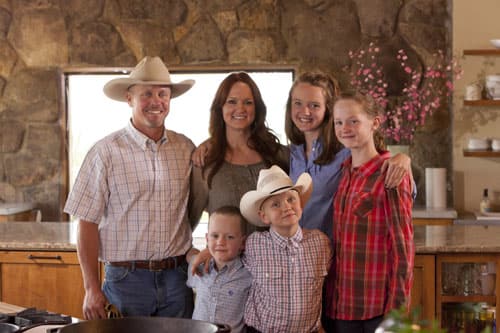 Ree bakes off these four cake layers, whips some cream and gets ready to assemble this towering dessert. She starts by spreading a thick layer of Nutella on top of one layer of cake. She then adds a generous layer of sweetened whipped cream and - as if this cake wasn't sweet enough - she adds some strawberries that have been sweetened with sugar and vanilla to the top of the cake.

I'm on board with over-the-top desserts, but I wonder if the strawberries would have been okay without the added sugar. Maybe a little natural freshness to cut all of the richness. She continues to layer the cake, Nutella, whipped cream and sweetened strawberries until all of the layers are completed. This cake has to be 12-14 inches tall. I worry about the structural integrity of this cake. If I were making this cake, I might put a few wooden skewers - or whatever layer cake makers use - through this tower of sugar to make sure it makes it to dinner. Just saying. With my luck, this would end up on the floor in a crazy mess.

Alex and her friend Meg are in charge of setting the table for the party, and get to go on a shopping trip to find candles, napkin rings and other tablescape decorations. The girls also hit up the flower shop, picking up a variety of blooms to adorn the Lodge's table. A few mason jars for vases and water glasses complete the ranch-chic look that the girls are going for.

Next up on the menu are Ree's Roasted Garlic Mashed Potatoes. First, she boils and mashes what appears to be an entire vat of potatoes (in reality, it's about 10 pounds). She is inviting 17 people to the Ranch tonight, so they do need to go a long way.

To the mashed potatoes, she adds three sticks of butter, a package of cream cheese, some half and half, heavy cream, salt and pepper. Can we say decadent? Wow, when these spuds are all mashed, they look so smooth and creamy I would want to do a swan dive right into the middle of Ree's giant Le Creuset pot.

They look ah-mazing. And to make matters even better, in go about six entire heads of roasted garlic. Yeah, baby. I would eat them as is, but Ree goes a step further and spreads them into a huge casserole dish, dots them with more butter and bakes them off in the oven. While this seems like an insane amount of butter, I have come to realize that really good mashed potatoes need a lot of butter and cream to make them perfect.

As a result, I don't eat them very often. I'll be bookmarking this recipe for Thanksgiving. They don't seem overly summery to me, anyway.

On to the main course: Peppercorn Roasted Beef Tenderloins! Judging by the size of these tenderloins, Ree is expecting 17 people with appetites the size of Oklahoma. Ree seasons the giant beef with salt, a bit of sugar and some smashed tri-color peppercorns. Then she inserts meat thermometers into the ends of the tenderloins to help avoid overcooking. She is shooting for medium rare, so they don't actually take that long to cook - about 20-25 minutes.

Then she makes something called "The Bread." I hesitate to call this a recipe, because it's literally just bread and butter. That's it. So, we'll just call this a bonus cooking tip that was thrown into the episode. She takes a loaf of french bread cut in half lengthwise and spreads an entire stick of butter onto the bread.

Ree pops it into the oven to melt the butter and then under the broiler to toast it up. That is all, folks. So, a recipe it is not, but if you're looking for the most rich, buttery bread you could ever make, this would be the method to use.

The guests arrive and there is a staggering crowd of people at the Lodge. Possibly the most I've seen on this show. Ree puts the finishing touches on the main course by pouring two sticks of melted butter infused with garlic over the roasted beef. I am pretty sure the butter count of this entire episode is upward of 10 sticks. Maybe a bit much for a typical dinner, you think? I love you, Ree, but I'm not sure I could handle all this butter! Except for in the potatoes. Mashed potatoes simply need butter. Luckily, her friend Hyacinth (Meg's mom) brought a salad which will serve as the lone vegetable for this feast.

It is a celebration, after all, and all of her guests seem to be smiling. They might just be in a butter coma, though. I know I would be.

This episode of The Pioneer Woman is not filled with everyday recipes, but rather dishes that are meant for a special occasion - like welcoming friends home after a long time away. Recipes meant for a celebration. And I don't know about you, but I feel like celebrating! Butter, anyone?

Remember to bookmark Food Fanatic for even more Pioneer Woman recipes and we'll see you next time!

Tags: The Pioneer Woman, Cooking Shows, Food Network