Strawberry Rhubarb Jam: A Classic Combination
Tracy R. | Sugarcrafter
This sweet and tart strawberry rhubarb jam is a classic combination. Make it an early summer favorite on Nutella and jelly sandwiches!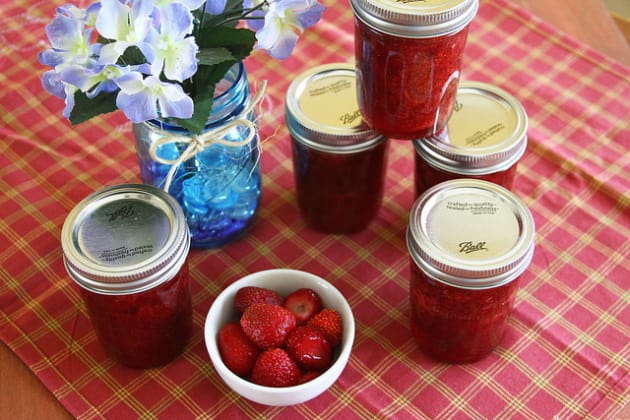 The arrival of June means strawberry season, and since I'm typically already up to my elbows in rhubarb jam, the next logical canning project for me is strawberry rhubarb jam.
A beginning-of-summer strawberry rhubarb pie is one of my favorite dessert recipes, and to me, this jam is like having a slice without all the extra calories. I love to spread it on toast as well, or make sunflower butter or nutella and jam sandwiches for lunch (peanut butter would also be fabulous, if you don't have a peanut allergy like I do).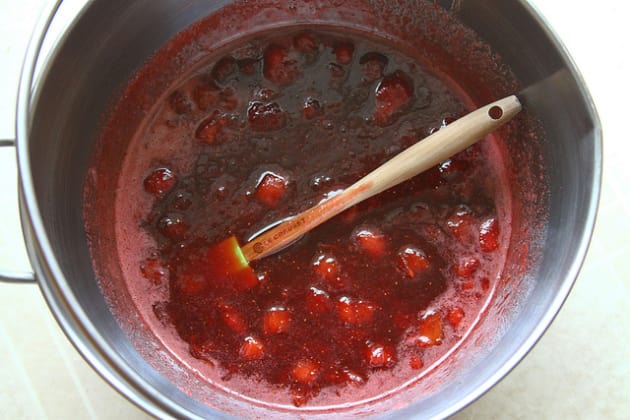 It's also one of my favorite jams for using in my own homemade fruit on the bottom yogurt.
Do you have a type of preserve that you consider to be a classic combination? I'd love to hear about it!
Ingredients
3 cups Strawberries
3 cups Rhubarb
4 tablespoons Lemon Juice
1 3/4 ounces Powdered Pectin
5 1/2 cups Sugar
Directions
In a large sauce pan, combine the strawberries and rhubarb. Crush the mixture together (I use my potato masher), and then add in the lemon juice. Bring to a boil and then let simmer, stirring frequently, until the rhubarb breaks apart.
Prepare your canning supplies. Bring the temperature of the glass jars up by processing them in hot water for several minutes, and heat a few cups of water in a small saucepan for the lids.
Stir in the pectin until dissolved. Bring back to a boil, and then add in the sugar all at once. Boil hard for a minute longer.
Skim off any foam and ladle the hot jam into the hot jars, leaving 1/4″ headspace.
Place the lids and bands on top, screwing on the bands just until fingertip-tight. Place the full jars back into the boiling water and process 10 minutes.
Remove from the water and place the jars on a towel. Let the jars cool. The seals should suck down (you'll hear a popping noise as they do). Makes 7-8 eight-ounce jars.
Recommended
Tags: Canning, Jams, Rhubarb, Strawberries