Kale Banana Smoothie: With Kiwi, Blueberries and Great Taste
Julia Mueller | The Roasted Root
This kale smoothie combines bananas with cranberries almond milk. It's a healthy snack that also tastes great!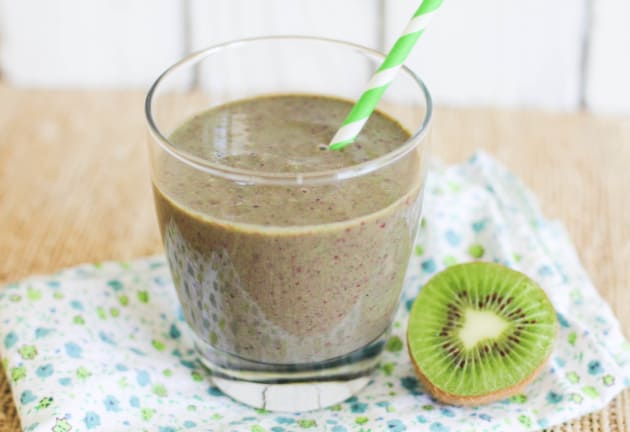 Don't let the color of this smoothie fool you into thinking it's all nutrition and no fun.
Sure, this smoothie is a serious shade of green. Sure, it's packed with healthful ingredients to start your day off right, but it's also tasty to boot! No need to plug your nose while drinking this health-in-a-glass - because you're guaranteed to enjoy every sip!
I often find myself rushing from one thing to the next. Gym to work to errands to dinner with friends... and the list goes on. With a full day and the need for efficiency, I find drinking a kale smoothie in the morning or as an afternoon snack is a sure way to stay fueled and alert.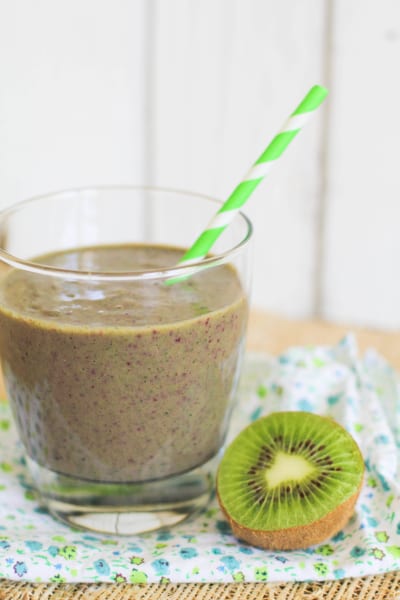 When it comes to green smoothies, I find that combining kale or spinach with berries, yogurt and almond milk makes a great tasting treat. For this reason, blueberries, cranberries and strawberries are sure to be a win, and berries are full of antioxidants. Double win! Kiwis are also packed with vitamin C and add a sweet, unique flavor to keep your smoothie fun and interesting.
There's no reason to skip breakfast when you can throw it in a blender and have it ready in seconds. Kale smoothie: bringing vitamins and energy from your blender to your body. One glass at a time!
And while we're on the subject... consider this mango smoothie recipe!
Ingredients
2 cups Kale Leaves
1/2 Banana, frozen
1 cup Blueberry Yogurt
3/4 cup Vanilla Almond Milk
1 cup Cranberries, frozen
1 Kiwi, ripe, peeled and halved
Directions
Place all ingredients in a blender and blend until smooth.
Pour smoothie in a glass and sip out of a pretty straw!
Recommended
Tags: Vegetarian, Kale, Smoothies, Healthy, Snacks, Bananas, Fruit, Drinks, Blender