Fresh Mango and Cilantro Margarita: Bright and Boozy
Brandy O'Neill | Nutmeg Nanny
This Mango Margarita is a blast of summer flavor - fresh sweet mangoes, flavorful cilantro and just a splash (or two!) of tequila. You are going to love this cocktail!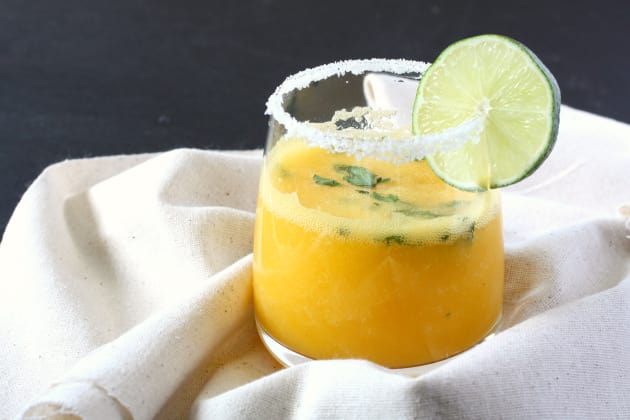 Summertime is the perfect time to sit by the pool and sip the day away. This simple margarita is made from fresh ingredients and only the best tequila.
I took ripe mangoes and pureed them until smooth. It's a sweet puree that is also delicious when mixed with seltzer water. A perfect option for the under-21 crowd that wants to join in the fun. 
Don't fear the cilantro in this recipe. While it might seem odd to add an herb to a margarita it totally rounds out the flavor.
This drink is fruity, herbaceous and perfect for sipping the summer away! 
For another under-21 option, make sure you check out Liz's Mango Smoothie Recipe too.
Ingredients
puree:
1 Mango, peeled and chopped
2 tablespoons Fresh Orange Juice
1 teaspoon Fresh Lime Juice
1 tablespoon Super Fine Sugar, optional
margarita:
Kosher Salt, for the rim of the glass
Ice Cubes
3 ounces Tequila, of good quality
1/2 medium Lime, juiced
3 ounces Triple Sec
1 tablespoon Fresh Cilantro, finely chopped
1 ounce Sparkling Seltzer Water
Directions
In a high-speed blender or food processor add mango, orange juice, lime juice and optional sugar. Blend until smooth. If you are not using right away, store it in the refrigerator.
Using a margarita or short cocktail glass, wet the rim (you can use water or lime juice) of the glass and dip into kosher salt.
In a cocktail shaker, add ice, tequila, mango puree, lime juice, triple sec and cilantro. Shake until combined and cold.
Pour into the prepared glass and top with seltzer water. Garnish with a lime slice if desired.
Recommended
Tags: Cocktails, Drinks, Frozen Drinks, Mangoes, Blender, Margaritas