Food Network Star Review: A Star is Chopped
Stephie Predmore | Stephie Cooks
What a fun, unusual episode of Food Network Star. Read on for our latest review of the series.
This week on Food Network Star, the mentors tried to hammer home the idea that the finalists need to be "food authorities" via a series of challenges designed to test their knowledge of unusual ingredients.
The Remaining 10 Finalists:
Chad Rosenthal – 37, Restaurant owner and father from Pennsylvania.
Chris Hodgson – 27, Food truck and restaurant owner from Cleveland.
Damaris Phillips – 32, Chef instructor from Louisville, Kentucky.
Danushka Lysek – 37, Private chef from New York City.  
Lovely Jackson – 27, Private chef from Los Angeles.
Nikki Dinki – 29, Food blogger from New York City.
Rodney Henry – 47, Owner of Dangerously Delicious Pies and father of two from Baltimore.
Russell Jackson – 47, Underground supper club owner from San Francisco.
Stacey Poon-Kinney – 34, Restaurant owner and mother from San Diego. Viet Pham – 34, Chef and restaurant owner from Salt Lake City.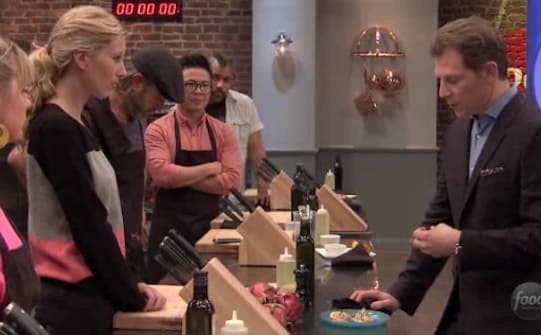 With Giada busy elsewhere this week, it was Bobby and Alton who held the fates of the finalists in their hands. The two chefs kicked things off quickly with a mystery ingredient-focused mentor challenge: the finalists each had 30 minutes to create a dish with a different exotic ingredient, proving their ability to cook with just about anything.

Some of the contestants, such as Damaris and Stacey, received ingredients that they were either already familiar with or that resembled ingredients they knew. Other finalists, such as Chad (the Grilling Recipes Jew), were not even able to correctly pronounce the name of their ingredient. Not exactly the way you inspire confidence in your abilities as a "food authority."

Following the mentor challenge, the finalists were put through an FNS-style Chopped-type challenge, with the winners of the previous challenge, Damaris and Rodney, serving as judge alongside Bobby, Alton, and notorious Chopped judge Alex Guarnaschelli.

Personally, that is a challenge prize that I would have been nervous to accept: being a critic one of the fastest ways to win friends and influence enemies. Damaris's critique of Danushka's presentation was proof of this.

Bobby and Alton finally saw the wisdom in Damaris's critique, however, and sent Danushka home for her standoffish, cold, disinterested personality (if you can even call that a personality). Sorry that no one is sorry, Danushka, but third time was not a charm for you today.

At the end of the day, we are in the third week of this competition, and the finalists' true abilities and personalities are starting to come out.

Some (Nikki, Chad, Stacey, and Rodney) have proven themselves to be consistently warm, energetic, and personable – personalities with whom viewers could really connect. Others (Lovely, Viet, and Russell) have shown themselves to be consistently insincere, shy, or low-energy.

Damaris, on the other hand, has proven that she is consistently inconsistent – a personality quirk that could equally aid or hurt her in this competition. The real wild card in this competition made himself known tonight, though – while Chris has been sitting in the middle of the pack up to now, his confession of his troubled past and the way that food saved him could prove instrumental in forming his food persona and turning him into a finalist that viewers will really support.

It will certainly be interesting to see where he takes this and how he uses it to his potential benefit.

Note: Remember to bookmark our site for the latest Food Network recipes.

Tags: Food Network Star, Food Network, Cooking Shows
Sign Up for Weekly Personalized Recipes. FREE!