Chopped Review: Big Fish, Small Basket
Stephie Predmore | Stephie Cooks
Chopped aired a special Thursday episode this week. Who mastered the baskets best? Read on for a rundown.
This week on Chopped featured one of the best rounds on the show, wowing the judges (and this reviewer) and making the decisions of who should be sent to the chopping block much more difficult than normal.
The Contestants:
Salvatore, Executive chef
Palak, Culinary instructor
Paul, Executive chef
Steve, Executive chef
This Week's Judges: Scott Conant, Aaron Sanchez, and Geoffrey Zakarian.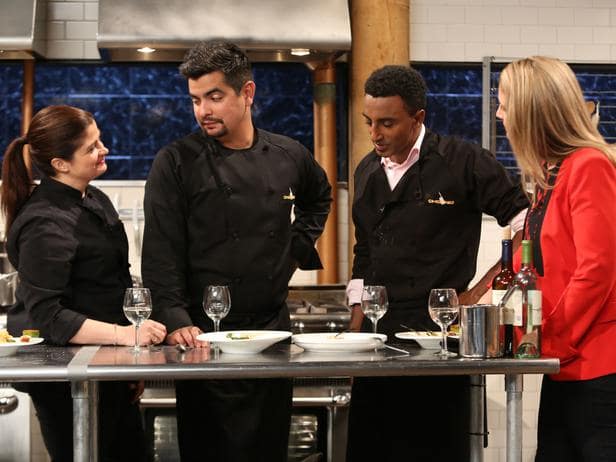 The Appetizer Round: The chefs had 20 minutes to come up with an appetizer using seitan, purple ninja radishes, mezcal, and canned chili.

Salvatore created a Sauteed Seitan that especially impressed fellow Italian Scott with great levels of flavor, though he barely used the mezcal. Palak channeled her Indian recipe roots with her Seitan Curry, which highlighted the seitan and the mezcal, but needed some crunch for textural difference.

Steve was the only chef who was truly creative with his appetizer, serving the judges a Beef Chili Quesadilla, though they were not impressed with his sauce made from seitan – admittedly, an ingredient that probably should not have been pureed.

It was Paul, however, who made the biggest error in not developing the chili for his Braised Seitan with Mezcal Reduction, and serving the judges a plate that looked like…well, let's just say that it did not look like anything that one would want to eat. This mistake was proof of how much presentation plays into the judges' decisions, as they fully admitted that the bad presentation was one of the main reasons they chose to chop him.

The Dinner Round: The contestants had 30 minutes to create an entrée containing liquid aminos, beet greens, alfredo sauce and fluke.

This was hands down one of the closest rounds that I have ever seen on this show. Salvatore wowed the panel with his great Italian sensibility in his Linguine Mare e Monti, which even Scott – the pickiest judge on the show with regards to pasta – raved about.

Palak's Seared Fluke was touted as being "masterful" and Steve managed to create big flavors with nuanced flavors in his Cornmeal Crusted Fluke. I was personally ready to see all three chefs move on to the dessert round, just to see them fight it out, but alas, Salvatore had to be chopped, if only for his slight lack of creativity with his pasta recipe.

The Dessert Round: The two remaining contestants had 30 minutes to create a dessert using speck, sfogliatelle, crabapples, and brewers yeast.

Steve created Speck Ice Cream served alongside dry Crabapple Fritters that lacked sweetness. Palak, who admitted to not having a lot of experience making desserts, turned the ingredients into a flavorful Dessert Sandwich with Apple Compote, though the judges were not wowed with her transformation of the sfogliatelle.

In the end, it came down to the chefs' performance in the first two courses to determine the winner, crowning Palak – perhaps the underdog of the competition due to her lack of experience - as the champion. She's climbed to the top of Mount Kilimanjaro, she's won Chopped…what can't this woman do?

For more Food Network recipes, bookmark Food Fanatic today!

Tags: Chopped, Cooking Shows, Food Network
Sign Up for Weekly Personalized Recipes. FREE!