BBQ Burger: Smoked, Splashed with Whiskey
David Dial | Spiced Blog
This Smokey Whiskey BBQ Burger features a couple secret ingredients that will make it an instant favorite at your backyard barbecues!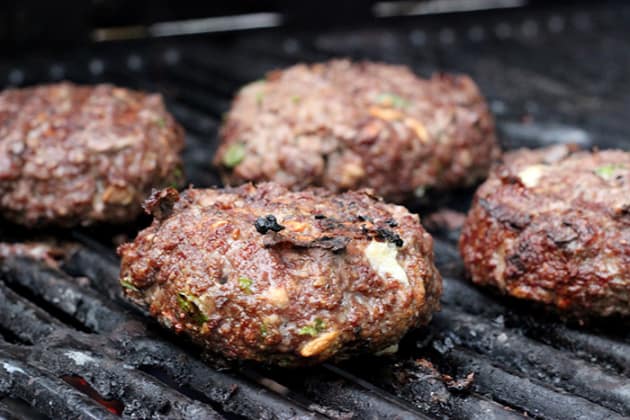 Ah, the weather is warm again…which means the return of the summer grilling season! (Of course, if you live in the South, then your grilling season started back in February.)
I don't know about you, but I've been grilling anything and everything lately. Burgers, ribs, hotdogs, pizza dough, steaks; you name it, it's been on my grill lately. This week, I decided to mix it up a bit and make some Smokey Whiskey BBQ Burgers, and let me tell you… they were delicious!
If you're a fan of putting BBQ sauce on your burger, then this Smokey Whiskey BBQ Burger is for you! Seriously.
My wife loves BBQ sauce on her burgers, and she couldn't stop raving about what a difference the caramelized onions made. And the secret ingredient? A generous splash of whiskey right at the end. (Be careful to remove the pan from the heat entirely and let the caramelized onions cool slightly before adding the whiskey! The vapors from the alcohol can ignite, and flambéed onions are not what we're going for with this burger.)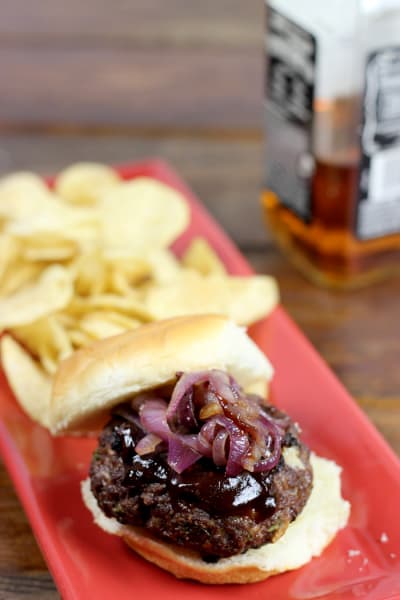 The proper way to caramelize onions is to cook them on low heat with a bit of butter for a long time (at least 30 minutes). If you hear them begin to sizzle, then turn the heat down! A little chef's secret is to add a pinch of sugar to the onions once they are in the pan. The sugar helps kick start the caramelization process.
I also included two other special ingredients in these burgers: diced jalapenos and chunks of smoked Gouda. Before you start telling me that jalapenos are too hot, hear me out! I removed all of the seeds and stems from one medium jalapeno, and then I diced the remainder and mixed it in with the meat.
The burgers had a hint of the jalapeno flavor with none of the intense spiciness that is often associated with jalapenos. And the chunks of smoked Gouda mixed into the burgers created little pockets of cheesy deliciousness.
So this weekend, pull out the grill and make a round of these Smokey Whiskey BBQ Burgers. Your friends and neighbors will thank you!
And if you're really craving that BBQ flavor this weekend, check out these oven-baked New Orleans Style BBQ Chicken Wings Recipe!
Ingredients
1 medium Onion, sliced
1 tablespoon Unsalted Butter
1/2 teaspoon Granulated Sugar
3 tablespoons Whiskey
1 pound Ground Beef
1 clove Garlic, minced
1 jalapeños Jalapeño, ribs and seeds removed and remainder diced
1 Egg
8-10 crackers Saltine Crackers, crumbled
6 ounces Gouda Cheese, smoked, coarsely chopped into about 12-16 pieces
8 slices Bacon, cooked, for topping
Directions
Place onions, butter, and sugar in a medium-sized fry pan on low heat. Stir occasionally. (Tip: If you hear the onions begin to sizzle, turn the heat down.) Cook until soft and translucent in color (approx. 30 minutes).
Meanwhile, place the ground beef, minced garlic, diced jalapeno, egg, and crumbled saltine crackers in a medium-sized mixing bowl. Gently stir ingredients until incorporated.Divide the hamburger mixture into 4 equal-sized portions. Using two hands, gently flatten one portion and then top with 1½ ounces smoked Gouda (about 3-4 small cubes). Carefully shape the mixture into a patty about ¾-1" thick.
Repeat with remaining portions of hamburger mixture. (Tip: One of the keys to a delicious burger is to work the meat as little as possible when making the burgers. The more you handle the meat, the tougher your burger will be.)
Using your thumb, make a small indention in the middle of each burger. This will yield a perfectly-shaped burger as it grills.
Place the burgers on a grill over medium heat. Cook 3-5 minutes per side, depending on your preference. (Tip: Flip the burgers only once, and resist the urge to use your grill spatula as a press!)
Once the burgers are almost done, transfer the onions from the fry pan into a small bowl. Add the whiskey and stir to incorporate.
Build the burgers, topping with BBQ sauce, whiskey onions, and bacon.
Notes
Remember to add in your favorite barbecue sauce for topping!
And your hamburger buns!
Tags: Grilling, Burgers, Dinners, Barbecues, Whiskey