Snickerdoodle Bars: (Brown) Sugary Sweet
Karly Campbell | Buns in my Oven
These Snickerdoodle Bars are caked in brown sugar. We know: YUMMMMM!
I currently have a teensy little obsession with all things brown sugar. I mean, I know. Everyone else in the world wants to limit their sugar intake, and then there's me. Dipping my fingers in the bag of brown sugar, pulling out the clumps, and stealthily sticking them in my face while the kids aren't looking.
It's sort of a problem.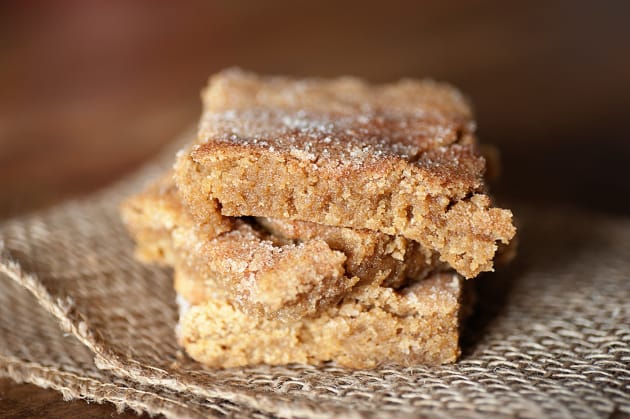 Finally, I decided to just embrace the obsession and whip up these brown sugar bars. These bars are ever so slightly adapted from One Lovely Life. Basically, I just took my love of browned butter and married it with these bars. Sort of the best union possible.
Another favorite way to satisfy my brown sugar addiction is with caramel corn, and these caramel corn cupcakes make my heart go pitter patter.
Ingredients
1 cup Butter
2 cups Brown Sugar
2 large Eggs
1 tablespoon Pure Vanilla Extract
2 teaspoons Baking Powder
1 teaspoon Salt
1 teaspoon Cinnamon
1/4 teaspoon Nutmeg
2 2/3 cups Flour
2 tablespoons Granulated Sugar
2 teaspoons Cinnamon
Directions
Preheat oven to 350°F. Line a 9x13 dish with parchment paper.
In a small saucepan over medium heat, melt the butter, whisking constantly. Bring the butter to a simmer and continue whisking until the butter goes from yellow to golden brown and smells a little nutty. Pour the browned butter into the bowl of a stand mixer fitted with the paddle attachment and let cool for five minutes.
Cream together the butter and brown sugar until well combined.
Beat in the eggs and vanilla.
In a medium bowl, combine the baking powder, salt, cinnamon, nutmeg, and flour.
Slowly add the dry ingredients to the brown sugar mixture and mix until just combined.
Spread batter into the prepared pan.
In a small bowl, combine the sugar and cinnamon. Sprinkle evenly over the top of the batter.
Bake for 20-25 minutes or until set. Cool completely before cutting and serving.
Recommended
Tags: Bar Desserts, Desserts, Baking