Ponzu Chicken Stir Fry: An Asian Sensation
Lisa Grant | Jersey Girl Cooks
This chicken stir fry recipe has a secret ingredient. It's Ponzu sauce. Cook up an especially easy and healthy dinner tonight!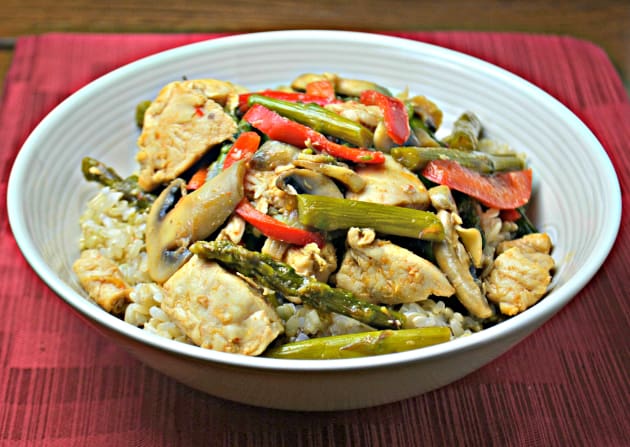 I have to admit when it comes to washing pots and pans, I can be quite lazy.  I am the mom that leaves them in the sink hoping my husband or kids will do them.
But then again, who really loves to scrub pots and pans? That is why if I'm making dinner, I try to use the least amount of pans I can.
Stir fry is one of my "go to" meals when I need dinner on the table quickly.The nice thing is that it's a flexible meal that includes a protein and veggies. It can all be cooked in one frying pan or a wok pan if you have one. I usually serve it with rice bought frozen which can be heated in the microwave. There are no pots to clean for the rice either.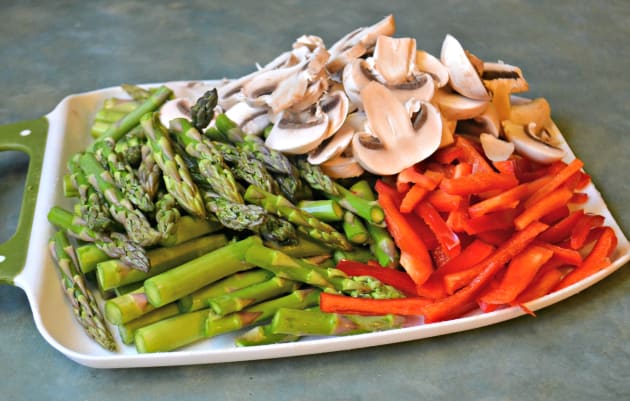 My secret ingredient for my stir fry is Ponzu sauce. There is much less sodium in this than soy sauce and the citrus in it gives the meal a nice zing.
In this recipe, I used chicken breast but pork, shrimp or beef can also be used. Any type of meat cut in small pieces can be cooked very quickly. The veggies give the dish a great color but other veggies can be substituted also. In my family, they are sometimes picked out. I tend to like all vegetables but there are a few family members that don't always agree. No worries, though. Just  some extra nutrition thrown on mom's plate.
The wonderful thing is that this can be cooked to your liking. Follow this recipe exactly to the T or go ahead and make it your own!
Ingredients
1 tablespoon Canola Oil
1 tablespoon Sesame Oil
1 pound Chicken Tenders, cut into 1 inch pieces
1 teaspoon Garlic, crushed
1 pound Asparagus, trimmed and cut into 2 inch pieces
1 large Red Pepper, cored and cut into 2 inch pieces
2 cups Mushrooms
2 tablespoons Seasoned Rice Vinegar
1/4 cup Ponzu Sauce, plus extra to serve
2 tablespoons Sweet Chili Sauce
dash Salt, to taste
teaspoon Crushed Red Pepper, to taste
3 cup cookeds White Rice
Directions
Heat both oils on medium heat in a wok pan or large nonstick skillet.
Add chicken and garlic and cook for 5 minutes or until chicken starts to brown.
Add the asparagus, red pepper and mushrooms.
Stir-fry for about 6 to 7 minutes or until veggies start to soften.
Add vinegar, Ponzu sauce and chili sauce. Cook for another 7 minutes making sure chicken is cooked through. 
Add salt and pepper to taste. Serve in bowls with rice.
Tags: Easy Dinners, Stir Fry, Chicken, Asparagus, Asian, Healthy, One Pot Meals, Chicken Breasts