Overnight Pizza Dough: Homemade and Delicious
Jen Schall | My Kitchen Addiction
Join me for a weekly pizza party on Friday nights. I think you'll find that this overnight pizza recipe is easier than ordering takeout!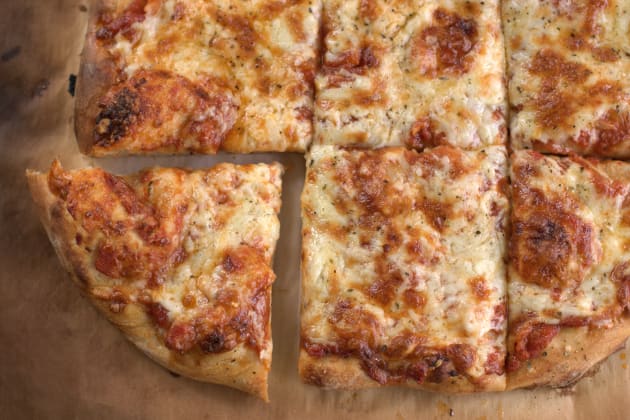 Sometime in the last year or so I declared Friday nights as the official pizza night at my house.
Over time, we added wine (after the baby was born!) and cookies to the menu, as well. It has turned into our mini celebration that the weekend has arrived. I keep things pretty casual, and it's a relaxing evening at home (well, as relaxing as any evening at home with a 6 month old baby). Sometimes we have friends or family join in, and sometimes it's just us. Regardless, there is always homemade pizza.
If you've got a busy work schedule or a handful of kids running around the house, the idea of making dinner at home on Friday night may sound a bit daunting. Believe me… if it was difficult, I wouldn't be making homemade pizza every Friday night.
I think you'll find, though, that this simple overnight pizza dough recipe makes things quite easy. You can mix up the dough on Thursday night (or the night before you plan to make the pizza) in just a few minutes.
It's a no-knead recipe so you don't even have to get your hands dirty. Then, you let the dough rise gradually overnight and all day on Friday. By Friday evening, you've got chewy, flavorful pizza dough that will rival the local shop around the corner and allow you to easily whip up a homemade cheese pizza recipe.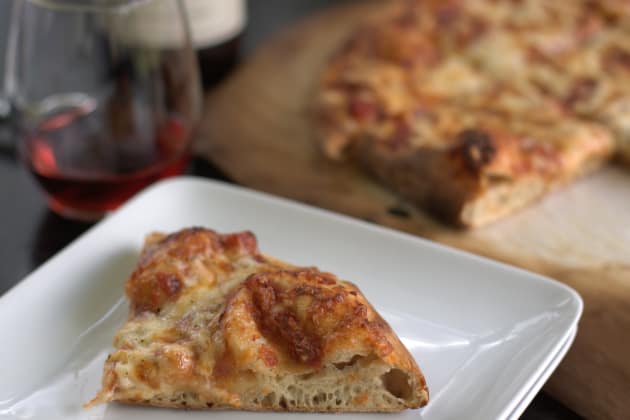 Late on Friday afternoon, you can divide the dough up for individual pizzas. Then, in the time it takes to heat up your oven, you can have the pizzas assembled and ready to bake.
If you have a pizza stone, it gets even easier. You can simply bake the pizzas on parchment paper directly on the stone. There are no pans to wash and cleanup is a breeze. Just add a bottle of wine and you're good to go. If you're really ambitious, you can mix up a batch of cookies the night before, as well!
Ingredients
2 1/2 cups All-Purpose Flour
2 1/2 cups White Whole Wheat Flour
1 teaspoon Kosher Salt
1/2 teaspoon Active Dry Yeast
2 cups Boiling Water, cold
Directions
Prepare the pizza dough the night before. In a large mixing bowl, whisk together the all purpose flour, white whole wheat flour, pizza dough flavor, salt, and yeast.
Gradually add the cold water, stirring with a wooden spoon until all of the flour is moistened and a soft dough starts to come together.
Shape the dough into a loose ball (it won't be perfect) and transfer to a large, clean bowl.
Cover with plastic wrap and let rise overnight (for about 18 - 20 hours). It will be soft and bubbly.
A few hours before dinnertime on the night you plan to bake the pizzas, transfer the dough to a lightly floured surface. Divide it into 3 or 4 portions and shape each one into a ball. Cover with plastic wrap.
Notes
You can make anything from a thin crust to a thick chewy crust with this recipe. Of course, the amount of pizza the recipe makes will vary greatly depending on how you prepare the pizzas. I make a middle-of-the-road pizza and my cooking times and servings are based on that. I recommend giving the recipe a try a few times to figure out what works best for you!
While I'm not normally a fan of specialty kitchen products, this recipe does mention pizza dough flavor. It's entirely optional, but I think you'll find that it adds a lovely flavor to your pizza dough. It's my secret weapon for great tasting pizza, and I think you'll find that your friends and family will be asking for your recipe when they taste your super easy homemade pizza dough!
Ingredients
3 cups Pizza Sauce
4 cups Mozzarella Cheese
Directions
Preheat the oven to 475°F.
While the oven preheats, shape each portion of dough (thick or thin, to your preference) on a piece of parchment paper (if you are baking on a pizza stone) or a greased pizza pan. Top with sauce, cheese, and pizza toppings.
Bake the pizzas for about 12 - 15 minutes, until the crust is golden and the cheese is bubbly.
Serve hot. Enjoy!
Notes
You are welcome, of course, to top with any toppings you desire!

Tags: New Mom in the Kitchen, Pizza, Pizza Dough, Dinners, Italian