Nestle Chocolate Milk: The Taste of Childhood
Ashton Swank | Something Swanky
Who out there doesn't adore Nesquik? Try this twist on the classic favorite now.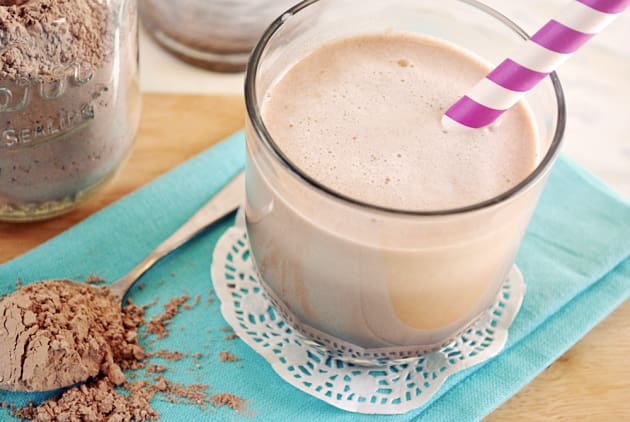 If I had to put a taste to my childhood, I would have to say that it unquestionably tasted like Nesquik Chocolate Milk.
And if I had one wish for mankind (and knew that I wouldn't be judged for ranking chocolate milk as a basic human necessity), it would be that every child could have a life full of chocolatey Nesquik happiness.
I'm the oldest child in a six kid family. Which means: my mom was pregnant a lot while I was growing up. Chocolate milk is the only craving I ever remember her having. And we used to by Nesquik by the Costco-sized barrels. Like... 5 or 6 at a time.
Sometimes I would hide in our pantry (no reason in particular, just for the thrill of it, I suppose), and I remember that I could full-on sprawl my entire body across crates of the stuff. And I never thought it was weird or out of the ordinary. I figured every family in America must have been drinking Nesquik by the Costco-sized barrels too!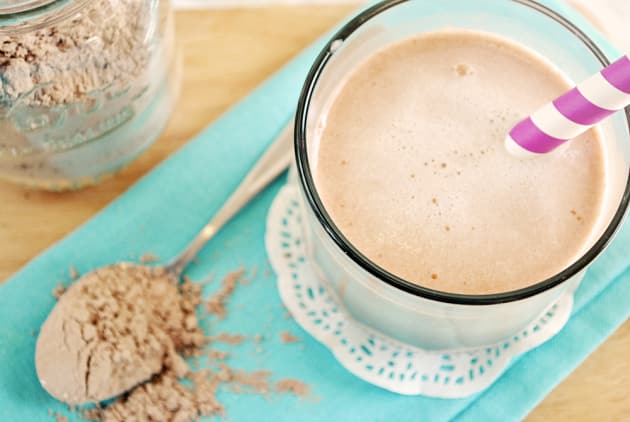 Fast forward a (*cough*) few years, and here and I am with my own kid (and a chronic chocolate milk craving, but no pregnancy to blame for that). And she loves Nesquik as much as I did. But here's the thing(s): it's pricey stuff! And we're on a major budget over here. Plus, I'm not super keen on letting my 2-year old slurp down a bunch of preservatives and other unrecognizable ingredients.
Fortunately, a glance at the Nesquik label confirmed what was already pretty evident: at it's core, Nesquik is just cocoa powder and sugar. And I'm stocked to the brim with both of those ingredients. So why not make my own??
After some experimentation, my family decided to stick with using confectioners sugar in this recipe. It's just a taste preference. You can use granulated sugar instead, but there's a quicker separation between the milk and the mix if you use granulated.
Either way, I strongly suggest blending the milk instead of stirring it. Blending is really just the best way to make it as smooth as possible. And it gets a little frothy which is pretty awesome.
We usually just go ahead and blend up a whole pitcher full, but there are lots of occasions I just whip up a single serving! Our blender has a single serving attachment. But have no fear if yours doesn't! Check out this simple single serve blending method - all you need is a mason jar and a standard blender. Easy!
What's the best food pairing for a tall, frothy glass of Nesquik? Probably Nutella Cookie Bars. Yes. That sounds about right.
Ingredients
2 tablespoons Confectioners Sugar
1 tablespoon Unsweetened Cocoa Powder
1 teaspoon Pure Vanilla Extract
1 cup Milk
Directions
Pour milk into blending cup.
Add the sugar, cocoa powder and vanilla.
Pulse for 5-10 seconds until the dry ingredients are completely mixed in.
Serve immediately!
Notes
Increasing the number of servings is easy! Simply keep the sugar to cocoa powder ratio 2:1, and be sure to add 1 tsp of vanilla for each serving.

Tags: Copycat Desserts, Desserts, Drinks, Chocolate, Blender