Mexican Chocolate Brownies: A Sweet and Cinnamon-y Delight
Roxana Yawgel | Roxana's Home Baking
These Mexican chocolate brownies offer a unique flavor. Watch out for that cinnamon kick!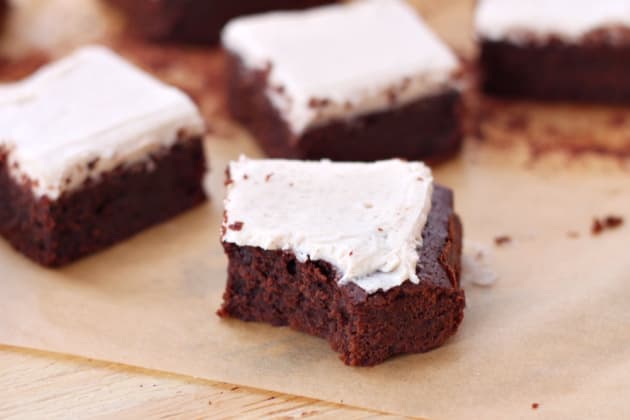 It's been a couple of year since my first trip to Mexico. Back then I didn't know what's the difference between types of chocolate. Everything was chocolate to me. It took me a trip half way around the world to discover that not all chocolate is the same. Hello cinnamon chocolate. Nice to meet you!
Mexican chocolate has a grainy texture and it's not usually eaten as a regular chocolate bar, but mostly used in hot Mexican chocolate. It's usually made from cocoa, vanilla, vegetable fat and a pinch or two of cinnamon is added for flavor.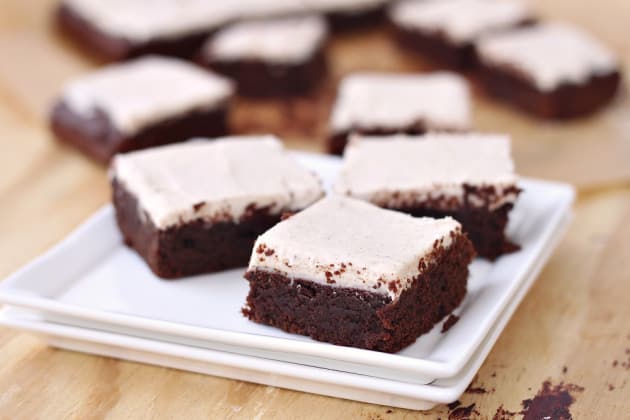 With Cinco de Mayo here, my mind goes back to our trips to Mexico. I wanted to recreate a rich chocolate cinnamon cake we ate one afternoon at a local coffee shop, but in the end I decided to make fudgy cinnamon brownies with a kick from the pinch of cayenne pepper added to the batter. Then I topped the whole thing with a thin layer of cinnamon buttercream.
To make these brownies is as simple as any other one brownie recipe. Start by melting the chocolate (that's always a good sign a recipe it's a keeper) with the butter, then stir in the sugar (brown sugar to enhance the cinnamon flavor), eggs and a little bit of flour.
Bake, cool, frost and enjoy!
The brownies are so rich you'll satisfy your sweet tooth in one small piece (believe me, and I have a big sweet tooth).
Ingredients
4 ounces Bittersweet Chocolate, Brownies
1/2 cup Butter, diced
3/4 cup Brown Sugar
2 large Eggs, room temperature
1 teaspoon Pure Vanilla Extract
1 1/2 teaspoons Ground Cinnamon
1/8-1/4 teaspoon Cayenne Pepper
1/2 cup All-Purpose Flour
Buttercream:
2 tablespoons Butter, room temperature
2/3 sifted cup Powdered Sugar
1 1/2 teaspoons Ground Cinnamon
1 teaspoon Heavy Cream
Directions
Heat the oven to 325°F. Line an 8" X 8" baking pan with parchment paper.
In a heatproof bowl place the chocolate and butter and microwave until melted. Remove from the microwave and stir well. Alternately, you can melt the chocolate and butter in a heatproof bowl over a pot of simmering water.
Place the melted chocolate mixture into a mixing bowl, add the sugar and stir until combined.
Add the eggs, one at a time, stirring well after each addition. Stir in the vanilla extract, cinnamon and cayenne pepper if using.
With a spatula, fold in the flour.
Pour the mixture into the prepared baking pan and bake in preheated oven for 20-25 minutes or until the sides are slightly pulling from the sides and a toothpick inserted in the middle comes out clean.
Remove from the oven and let cool.
While the brownies are cooling, make the frosting.
Since it's just a little frosting I didn't use my stand mixer. I just mixed the butter with the sugar in a bowl with a silicone spatula, adding a little bit of heavy cream until desired creaminess is obtained.When the brownies are completely cooled, spread the frosting on top of it.
Cut into 16 bars. Enjoy!
Tags: Chocolate, Brownies, Desserts, Mexican, Baking