Iron Chef America Tournament of Champions: Zakarian vs. Guarnaschelli!
Emily Caruso | Jelly Toast Updated
It's on! The Iron Chef American Tournament of Champions kicked off this wek.
As a longtime fan of Iron Chef, this new Tournament of Champions has me completely engrossed.
For the first time, we will get to see the actual Iron Chefs battle it out, head to head to see who comes out on top. One disappointing element is that we won't see Bobby Flay compete in battle. As the longest standing American Iron Chef, he'll serve as the head judge during the grande finale.
This week, the tournament gets underway with the very first battle: Zakarian vs. Guarnaschelli.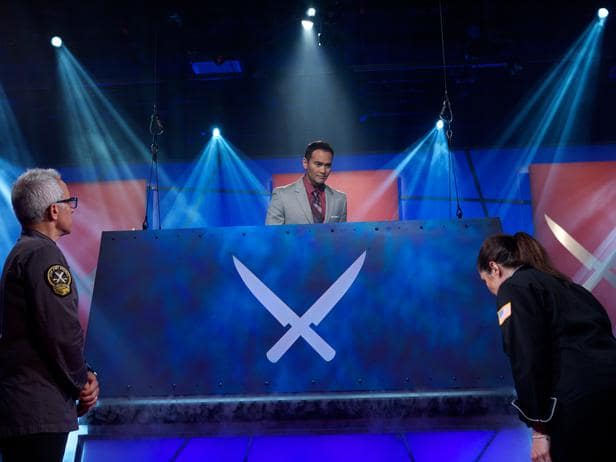 It's like Chef Madness...or something. Anyway, here's the first round bracket setup:

   The winner of this battle will battle Michael Simon.

   The winner of the other first round battle (Jose Garces vs Marc Forgione battle) will battle Masaharu Morimoto.

Secret Ingredient: Potato Chips! Yes, seriously. It will be interesting to see how potato chips become the main ingredient in five dishes, and I'm willing to bet that these two chefs are going to take some pretty different approaches to these little chips.

Tonight's Judges: G. Garvin, Trisha Yearwood, simon Majumdar

First Dish:
Iron Chef Zakarian serves a Potato chip Mousse with a Black and Tan White Russian to the judges for his first dish. The main portion of this course is served in an egg shell and Zakarian describes it as a Black and Tan potato chip fantasy. G. Garvin is blown away by Zakarian's potato chip mousse, as is Trisha. Her only comment is that she isn't getting a whole lot of potato chip in the cocktail. That is a cocktail I would like to try.

Iron Chef Guarnaschelli comes in just under the wire (9 seconds left) with her first dish. She serves up a potato chip bonanza with her Potato Chip and Leek Soup with mussels gratin with potato chips and a Vesper cocktail. That's very 007 of her, don't you think? Her whimsical approach to the potato chip and leek soup goes over very well with the judges. Trisha thinks the soup is a bit on the thick side.

The Iron Chefs get back to work on their remaining four courses while Alton gives us the results of the first course. Shocking, shocking - it's a tie. 11 points for each chef. Oh, and who dressed Alton, tonight?

His tie shirt combo is downright unsettling. Both sides of kitchen stadium are firing up the ice cream makers, and that always means a party. Speaking of party, in comes the chairman with his culinary curveball - a French press! So, the chefs have to come up with a way to use this culinary curveball in one of their dishes.

Judging:
Iron Chef Zakarian is up first at the judges table. His first (or rather second course) is Langoustine with Potato Chip Puree and Potato Chip Grenobloise with Potato chip Oil. The judges are a bit unsure of his purple cauliflower puree. While I think it looks beautiful, the judges seem to think it's a bit too salty.

In his next course, Zakarian is really attempting to get the potato chip out in the forefront. It's like a crazy twist on a Caesar salad. He calls it his Lettuce Potato chip Caesar Salad. The dish is little gem lettuce leaves topped with Caesar salad elements and finished off with potato chip dressing. Simon Majumdar is blown away by his use of radish. I've never heard of radishes on Caesar salad before, but apparently it works.

It's this next dish that completely calls my name. Zakarian whips up a Potato Chip Ravioli, that he stuffs with potato chips, sour cream and chives. SWOON.  The judges, not surprisingly, are speechless after tasting this ravioli recipe. There is nothing bad about a sour cream and onion potato chip ravioli. I mean, wow. I'm not sure how he'll top that.

For his last dish (in which he used the culinary curveball - the French press) Zakarian serves up a Chips and Beer Battered Baked Alaska. He serves it in this funny, tall goblet looking dish, which I find totally odd. The dessert itself looks incredible, though. In his French press, he infused a rum sauce with a variety of spices. Trisha likens it to drinking a pint in Ireland. Zakarian did an exemplary job of actually delivering all of the flavors that he claimed to include.

Iron Chef Guarnaschelli is up next and she kicks off her meal with a Flatbread with Fontina Creme Fraiche and Herbs. Her entire meal is based off of her favorite flavors of potato chips and this course is a play off of sour cream and onion chips. G. Garvin loves the pickled onions she uses to top off this flatbread, but Simon is put off by them. Trisha lands in the middle of the pickled onion debate.

Her next dish is Shrimp with Romesco Sauce that features a seared shrimp head that is stuffed with potato chips. The judges love it, and she is thrilled when they comment that this dish really reflects her style. It screams Alex. This clearly makes her proud that she she is really coming into her own as an Iron Chef.

The next dish that Iron Chef Guarnaschelli serves up was the nail-biter of the burnt veal cheeks. It seems as if she was able to cook another batch of cheeks properly, so she's in good shape. The name of this dish is Braised Veal Cheeks with mashed Potato chips. The mashed potato chips seems like a brilliant idea, but they seem to fall flat. Trisha and G. Garvin like them, but Simon is put off by their gummy texture. The dish looks beautiful with the veal towering on top of the potatoes and garnished to perfection.  It's unfortunate that the dish didn't taste as good as it looked.

For her last course (the dessert, of course...get it?) Chef Guarnaschelli offers the judges Peanut Butter Ice Cream, Bourbon Chips and Chocolate Potato Chip Clusters. Her Bourbon Chips are a play on the actual potato chips, and she also used the culinary curveball in her dessert. The French press was used to make a syrup that she served with the ice cream. Trisha is thrilled, but Simon points out the fact that her ice cream is a bit over turned. He does admit that he is loving the chocolate covered potato chips. But really, who wouldn't love them?

The Winner:
The judges have spoken and the winner is Iron Chef Zakarian! With a score of 83 over Iron Chef Guarnaschelli's score of 76, he wins by a healthy margin. Not a huge surprise after the judges comments.

There was hardly a negative comment against Zakarian, while most of Chef Guarnaschelli's dishes had some little element that lacked perfection. Zakarian is solid and after tonight's win, he'll be off to battle Iron Chef Michael Symon. I'm sad to see Guarnaschelli lose, simply because I like her. She's a classy lady who cooks with her whole heart. The battle between Zakarian and Symon is bound to be a nail biter.

We'll see you here next week for the next first seed battle: Jose Garces vs Marc Forgione.

NOTE: Remember to bookmark our section of Food Network recipes!

 

Tags: Iron Chef, Cooking Shows, Food Network