Creamy Shrimp and Rigatoni with Sweet Peas and Peppers: The Perfect Weeknight Meal
Lisa Grant | Jersey Girl Cooks
This shrimp and pasta recipe makes for the perfect weeknight meal. Try it today!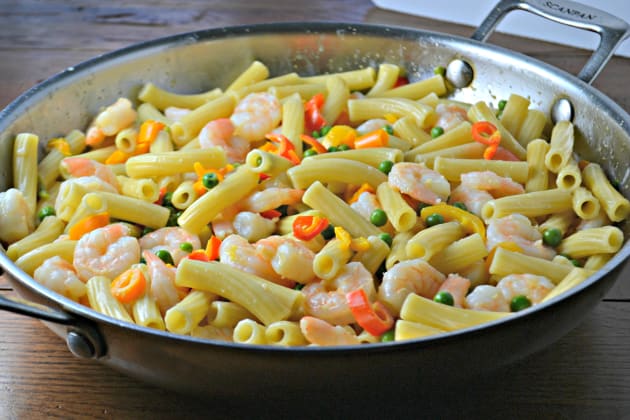 Between sports practices, orchestra, school newspaper, PTA meetings and other night time activities, there is not much time to cook dinner. But I love making dinner for my family as much as possible.
Usually I have under an hour to cook dinner, serve it and clean up.  I am always looking to make gourmet style meals that are quick and easy. Creamy Shrimp and Rigatoni  with Sweet Peas and Peppers hits the jackpot.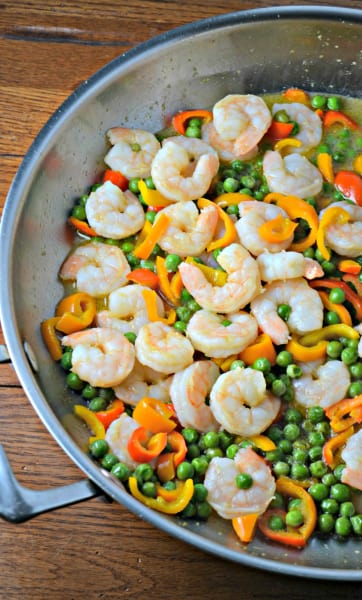 One of my "go-to" ingredients is frozen shrimp. I keep a few bags in the freezer at all times. They are already cleaned and can be defrosted in no time. The shrimp also cook up in a matter of minutes.
In this simple recipe, I pair shrimp with pasta and veggies. It can be served with a simple salad or some fruit for a nice easy dinner. One of the best things is that it can be reheated in the microwave for the nights where my family eats in shifts. It also makes great leftovers for lunch the next day.
There are nights where I make dinner early, feed the kids and then take the kids to where they need to go. My husband and I sometimes eat dinner when we get home. The best part about eating this dinner is that it is perfect with a glass of white wine.  Enjoy!
Ingredients
12 ounces Dried Rigatoni Pasta
2 tablespoons Olive Oil
1 tablespoon Garlic, crushed
1 cup Red Bell Pepper, diced
1 cup Yellow Bell Pepper, diced
1 1/2 cups English Peas
1 pound Shrimp, cleaned, deveined and tails removed
1 cup Chicken Broth
1/2 cup Half and Half
3 tablespoons Fresh Basil
Salt, to taste
Black Pepper, to taste
Directions
Bring a large pot of salted water to a boil. Add rigatoni and cook for 10 to 11 minutes or until al a dente.  Drain pasta and keep warm.
While pasta is cooking, heat the oil on medium heat, in a large sauté pan. Add the garlic and peppers and cook for 5 minutes or until tender. Add the peas and cook for another 10 minutes. Add the shrimp and cook for 2 more minutes or until they start to turn pink.
Mix in the chicken broth and half and half. Cook for a few minutes until the sauce is bubbly.
Add the cooked pasta. Cook on low until sauce starts to thicken. Sprinkle with the basil.
Serve in bowls. Add salt and red pepper to taste.
Notes
Frozen peas may be substituted for English peas.

Tags: Easy Dinners, Pasta, Shrimp, Dinners, Vegetables, Easy