Coconut Almond Biscotti: A Healthy, Chewy Dessert
Steph S. | ::steph chows::
This coconut biscotti is a healthy treat that includes a fair share of almonds. It's soft and it's tasty - and it's healthy.
You know those recipes that you know by heart because you make them so often? This is currently one of mine. I make 1-2 batches of these every week. I eat a few here and there, but they are the go-to work snack for the husband. The recipe has changed over the years, but this is my newest favorite version.
I know my last two healthy recipes have involved coconut, so if you're allergic, I'm wicked sorry and promise the next recipe will be coconut free! But the truth is my household is pretty full of nuts, and I'm not just talking about John and me.
I snack on them, I use them in all types of baked goods… (although keep the walnuts out of my coconut muffins recipe!). I hate walnuts in muffins, John loves them though so they do happen… but really? Walnuts? Stay out, okay?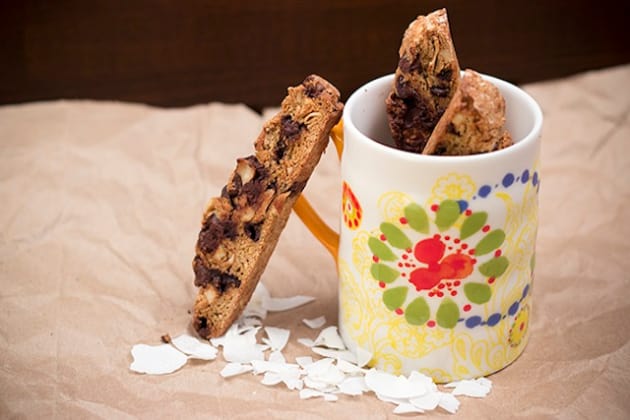 A slight warning: these aren't the hard as a rock, must dunk in your coffee, traditional style biscotti. You can eat them just fine without chipping a tooth. I can't stand crazy hard biscotti, so maybe I shouldn't call them biscotti… but it's what they most resemble. Plus, it sounds so much better than twice baked cookie bars right?
Are you a nut fan or tend to stay away? Do you have nuts you love? Ones you hate? How about recipes that you love but currently are full of fat and sugar? Can I do a recipe redo?? I'm always looking for new recipes to "health up" so please please leave a comment with a link or just paste the recipe right in and I'll do my best to make a every day, not just special occasions version for you!
After all, we're all here because we're Food Fanatics, right?
Ingredients
3/4 cup Whole Wheat Flour
1/2 cup White Flour
1/3 cup Splenda
2 tablespoons Brown Sugar
1 teaspoon Baking Powder
1/4 cup Unsweetened Coconut Flakes
1/4 cup Almonds
1/4-1/2 cup Milk Chocolate Chips
2 large Eggs, lightly beaten
1 teaspoon Pure Vanilla Extract
Directions
Combine flour through chocolate chips in a large bowl.
Add beaten eggs and vanilla and stir until a stiff dough forms. If you need a little more liquid drizzle 1-2 teaspoon of agave or honey and keep kneading.
Form into a rectangle about 1 inch thick on a silicon baking mat on a cookie sheet. (Wet hands help here so the dough doesn't stick to you).
Bake in a preheated 325°F oven for 25 minutes.
Once the top is brown and baked through remove from oven and place on a cutting board.
Slice into ½ -1 inch slices and place back on baking sheet.
Continue baking 10-15 minutes or until sides have browned.
Notes
You can use white sugar in lieu of Splenda.
Use a drizzle of agave or honey if things are aren't wet enough.
Tags: Healthy, Coconut, Biscotti, Snacks, Cookies, Desserts