Cilantro Chutney: A Simple, Indian Classic
Urvashee Patel | Dessarts
Use it as a spread, dip or sauce. This popular Indian cilantro chutney is easy to make with just a few basic ingredients.
I love it when a good food story comes together for a recipe. I have to admit, though, I have nothing for this one. There's no history behind this recipe.
I didn't make it for a particular occasion and it's not a crazy food experiment of mine. Cilantro chutney, also known as coriander chutney, is simply a staple condiment for a lot of Indian food. You may have seen it served with papadum or samosa at a restaurant. It also makes a great sandwich spread and is a key component of a variety of Indian street food. (Try it with this Indian Cauliflower Pizza Recipe perhaps?)
Interestingly, I've learned from talking to friends and my mom that there's no right way to make it. My ingredient list is really basic and purely cilantro-based because I like it that way. However, it is often also made with additional ingredients such as mint, cumin and ginger.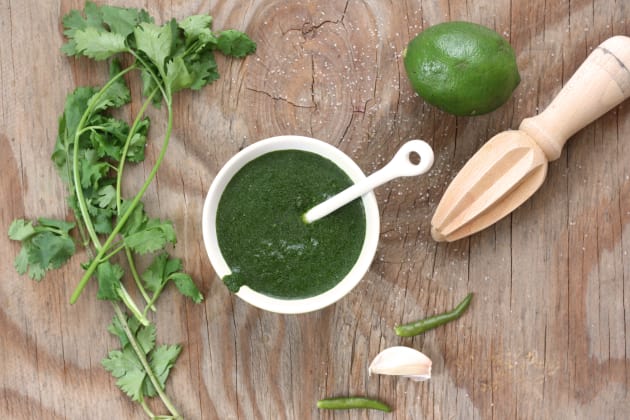 The chutney can be made as thin or thick as you want depending on how you use it. For a sandwich spread, I keep it thick. If dipping samosas, I thin it out with water.  The one challenge to making it thick is trying not to add so much water in the grinding process. I have a small wet and dry grinder that works really well. A regular blender requires more water to get the cilantro to a paste. For this reason, some cooks will add a handful of peanuts, unsweetened coconut or roasted Indian chickpeas as a thickener.
This Cilantro Chutney is great when fresh but also freezes well. It also has simple ingredients and is very quick to make. It's definitely not just for Indian food. It's just as delicious with a sandwich, wrap, tortilla chips, or just plain bread. 
For other great vegetarian dishes, consider this Mexican corn soup recipe!
Ingredients
1/2 clove Garlic
1 Green Chiles
1 1/2 tablespoons Fresh Lime Juice
4 cups Fresh Cilantro, loosely packed
2 tablespoons Boiling Water
Directions
Blend the garlic and chili to a paste.
Blend the cilantro, garlic-chili paste, lime juice, and water until it is smooth.
Add more water a little at a time if it needs more moisture to blend. Add salt to taste.
Notes
Be sure to only use the leaves of the cilantro. Stems are edible but tend to make the chutney bitter. I use small green chilies that are packed with heat found at Indian markets. Adjust the amount to your spice level if using a different chili.

Tags: Vegetarian, Chutney, Cilantro, Indian, Sauces, Gluten Free, Vegan, Spreads