Chopped Review: Cook Your Butt Off!
Stephie Predmore | Stephie Cooks
Chopped aired a special Thursday episode this week. And we're here with our latest Food Fanatic review of the competition.
This week, four chefs who lost significant amounts of weight through healthy eating and cooking took over the Chopped kitchen, attempting to prove that healthy recipes do not have to be bland or uncreative.
The Contestants
Chris – Food service director who lost 140 pounds
Elizabeth – Founder of Winning Diabetes who lost 100 pounds
Phillip – Private chef who lost 92 pounds
Joel – Corporate executive chef who lost 105 pounds
The Judges: Alex Guarneschelli, Scott Conant, and Marcus Samuelson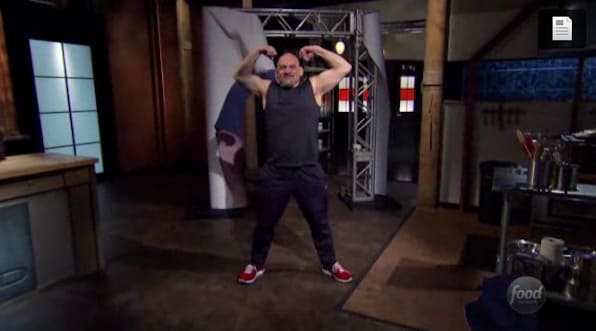 The Appetizer Round: The chefs had 20 minutes to create an appetizer using dried goji berries, bitter melon, duck breast, and kumquats. There were a lot of very strong flavors in this basket, which really served to separate out the chefs who knew how to combine and nuance flavors from those who did not.

In spite of his slightly undercooked duck, Phillip had perhaps the best balance of flavors in his Southwestern Seared Duck Breast with Warm Salsa. Chris succeeded in achieving a perfectly crispy skin on his Seared Duck Breast with Sweet Potato and Onion Hash, though the judges found his pickled bitter melon to be too acidic.

The judges felt that Joel's Pan Seared Duck Breast with Noodle Salad was creative in spite of its sloppy appearance. It was Elizabeth's use of raw bitter melon with her Softly Spiced Seared Duck Breast, however, that sent her to the chopping block.

The Dinner Round: The contestants had 30 minutes to create an entrée containing coconut oil, black cod, dinosaur kale, and pork rinds. While the chefs should have had an easy time with at least three of the four ingredients, none of them really succeeded in this round.

Phillip's Black Cod Crusted with Pork Rinds and Sesame Seeds was well cooked with a good crust, but desperately needed an acidic element to brighten it up. Joel achieved a good sear on his Black Cod Filet with Cabbage and Kale Ragout, but the judges felt that there was nothing unifying about the dish.

Chris made the twin mistakes overcooking his Seared Cod Filet with Broth and adding too much orange zest to the dish, ultimately sending him home.

The Dessert Round: The two remaining contestants had 30 minutes to create a dessert recipe using clotted cream, passion fruit puree, spirulina, and angel food cake.

While the judges appreciated the creativity and ambition behind Joel's Spirulina and Clotted Cream Pudding, it was Phillip's overall meal – if not so much his Fruit Salad with Angel Food Croutons - that just barely won them over and won him the $10,000.  If this episode serves to demonstrate anything, it is that beautiful, creative, delicious food does not have to be unhealthy.

All four of these hard-working and inspirational chefs were proof of that, whether they went home with the $10,000 or not.

NOTE: Remember to bookmark our section of Food Network recipes for more!

Tags: Chopped, Cooking Shows, Food Network