Chopped Review: Breakfast, Lunch and Dinner
Stephie Predmore | Stephie Cooks
Chopped mixed things up a bit this week. Read for our latest review of The Food Network favorite.
This week on Chopped, four chefs went up against baskets with breakfast, lunch and dinner-themed ingredients in their quest to win the $10,000 prize.
Though the contestants did not know about the change in theme until just prior to opening their first basket, they handled the curveball well – though there were still many errors, putting them all in danger of being on the chopping block at several points.

The Contestants:
Fred - Chef/Restaurant owner from Los Angeles
Natalie – Line cook from Harlem, New York
Brandon – Chef and partner from Los Angeles
Chris – Executive chef from New York
This Week's Judges: Amanda Freitag, Maneet Chauhan, and Aaron Sanchez.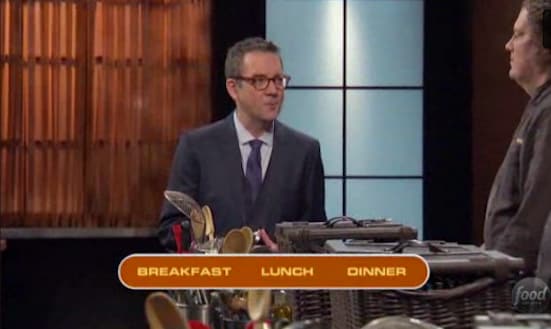 The Breakfast Round: The chefs had 20 minutes to create a breakfast recipe using black forest bacon, ricotta pancakes, smoked salmon, and prune juice.

Natalie impressed the judges with beautiful presentation on her Deep-Fried Pancakes with Salmon Cream and Poached Eggs, but lacked seasoning on her eggs. Amanda called Brandon's Caramelized Pancakes with Bacon and Prune Syrup the "perfect breakfast bite," but some of the judges felt he did not transform the pancakes enough.

Chris also did not transform the pancakes in his Ricotta Pancake with Chipotle Sauce, but his creative use of the bacon in his chipotle sauce went far and above the judges' expectations. It was Fred's decision to serve the judges floor bacon with his Buttermilk Pancakes, however, which understandably got him sent home.

The Lunch Round: The contestants had 30 minutes to create a lunch dish containing quiche Lorraine, purple cauliflower, blue shrimp, and rose wine.

Chris went an elegant route with his Grilled Marinated Shrimp, while Brandon went back to his New Orleans roots with New Orleans-Style BBQ Shrimp recipe. While both of their dishes contained some big errors, Natalie did not cook the alcohol flavor out of her Quiche and Shrimp Soup. Even though she was the only chef that served what most of us would think of as a traditional lunch meal, the judges could not overlook her error and had to chop her.

The Dinner Round: The two remaining contestants had 30 minutes to create a dinner using chateaubriand, horseradish root, tawny port, and stone crab claws.

Chris created a "dynamite" cream sauce for his Roasted Chateaubriand with Napa Cabbage Salad, but the judges did not feel that the elements of his under-seasoned dish worked well together. Brandon, however, perfectly cooked his Seared Chateaubriand with Two Sauces, bringing some lovely flavors to the party and winning him the title of Chopped Champion.

While it is not unusual for the Chopped baskets to have an overarching theme, this was the first time the rounds have been changed from appetizer, entrée and dessert to breakfast, lunch and dinner.

And while the contestants handled the unexpected change in theme well, there was just enough challenge brought to the party that I expect that this will not be the last time we see breakfast, lunch and dinner-themed baskets in the Chopped kitchen.
 

Tags: Chopped, Cooking Shows, Food Network