Chopped All-Stars: Who Won?
Stephie Predmore | Stephie Cooks
Chopped All-Stars has come to an end. Read on to learn the winner.
On the finale of Chopped All-Stars, four Food Network all-stars competed to see who would win $50,000 for their favorite charity.
The Contestants:
Sunny Anderson – Competing for N Street Village
Gavin Kaysen – Competing for Children's Cancer Research Fund
Scott Conant – Competing for Keep Memory Alive
Laila Ali – Competing for Healthy Child Healthy World
This Week's Judges: Geoffrey Zakarian; Marcus Samuelson; Aarón Sanchez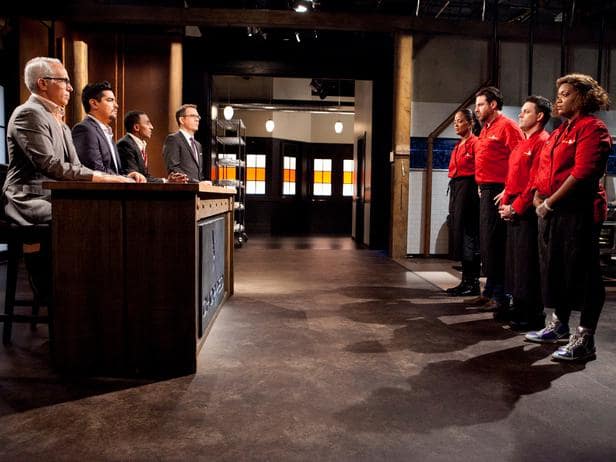 The Appetizer Round: The chefs had 20 minutes to create an appetizer recipe using soft shell crabs, crunchy peanut butter, sake, and sea beans. This was an interesting round, in which each of the contestants seemed to infuse their personalities into their dishes.

Scott served perfectly-cooked Soft Shell Crab Pasta with Coconut Peanut Sauce. Laila impressed the judges (and, I'm sure, the viewers) by perfectly preparing her Asian-inspired Soft Shell Crab on her first try. Gavin served Panko-Crusted Soft Shell Crab with Coconut Peanut Sauce – a dish with well-developed flavors that he plated poorly. In the end, however, it was Sunny's inability to properly clean and cook her Cornmeal-Dredged Soft Shell Crab that got her chopped.

The Dinner Round: The contestants had a generous 40 minutes to create an entrée containing suckling goat, broccoli rabe, farro, and cheddar-filled pretzels. Laila went into the entire competition, and particularly this round, as the underdog, but fought impressively to stay in the competition.

Scott managed to, in 40 minutes, replicated spit-roasted goat with his Moist Roasted Suckling Goat – a dish that was as impressive as it was delicious-looking. While Gavin's farro was slightly undercooked, his Suckling Goat Sausage was flavorful and perfect. But in spite of Laila's grit and determination, her comforting, flavorful plate could not disguise that her Pan-Sauteed Suckling Goat Leg was slightly undercooked, sending her packing.

The Dessert Round: The two remaining contestants had 30 minutes to create a dessert using freeze-dried grapes, marrow bones, marcona almonds, and cannoli cream.

While Gavin's use of the freeze-dried grapes and almonds to make a crumble and his semifredo was the highlight of this round – and a lovely dish in general – Scott was able to ride on the success of his earlier dishes and walk away the champion for Keep Memory Alive. That these two chefs were the two competing for the $50,000 in the end was no surprise, though it may surprise some viewers that a Chopped judge is able to walk the walk as well as he talks the talk.

I suppose Scott's victory in this round really just goes to prove that, while we may not always agree with them or their decisions, the Chopped judges really do know what they are doing, and are ultimately the kings of that kitchen.

NOTE: Remember to visit Food Fanatic for many more Food Network recipes!

Tags: Chopped, Cooking Shows, Food Network
Sign Up for Weekly Personalized Recipes. FREE!