Chicken and Mushroom Pasta: A Bucket Full of Yum
Steph S. | ::steph chows::
Looking for a healthy and hearty dinner tonight? We suggest this easy and delicious chicken and mushroom pasta.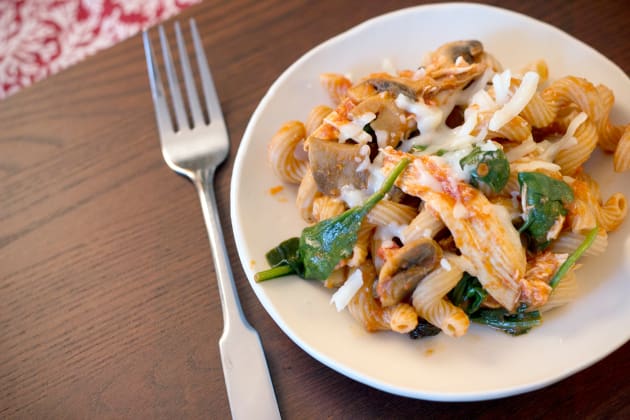 Dinner is one of those things I'm always thinking about, yet when it comes to be that time of day, I never know what to actually make. If I ask the husband what he feels like, his standard answer is "a bucket full of yum."
I've gotten better at figuring out what exactly that means, and truthfully I tend to go to this Chicken and Mushroom Pasta recipe when he says that.
There are so many reasons I love this recipe' for starters, rotisserie chickens are the best added value item ever. In our area of the country, our grocery store is Wegman's, where you can get one for $4.99, hot and ready, any time of the day.
Plus, I have a confession to make" Whole raw chickens scare the @#! out of me. They are gross, and slimy, and teaming with bacteria… and they come with organs stuffed into them!? What kind of sick joke is that?? No, thank you.
But give me a fully cooked juicy rotisserie chicken and I am all in, sister. Seriously, a whole chicken, cooked and hot and ready to go? Perfection.
Some may call them boring, but that's where this recipe steps in. Taking your boring chicken and making it into a fancy-shmancy delicious family friendly meal, and healthy to boot.
Even better is it comes together in 30 minutes or less depending on how fast you are at getting chicken off the bone. (See, even that gives me the chills.)
For other chicken options, consider this Lemon Rosemary Chicken Recipe.
Ingredients
1/2 pound Whole Wheat Pasta
1/2 cup Boiling Water, reserved from cooked pasta
1/2 Rotisserie Chicken, shredded
6 ounces Mushrooms, sliced
2 cups Pasta Sauce
2 cloves Garlic, diced
1 teaspoon Balsamic Vinegar
1 teaspoon Olive Oil
4 handfuls Mixed Salad Greens
1/2 cup Mozzarella Cheese, for garnish
Directions
Cook pasta according to package directions and set aside.
Reserve ½ cup of the water to use later. In a large sauté pan, heat olive oil over medium heat. Add sliced mushroom and let cook undisturbed for 5 minutes. Stir, add garlic and cook for a few more minutes.
Add pasta sauce, water, and vinegar. Turn heat down and let simmer until warmed through, stirring on occasion. Add greens and stir until they are wilted.
Finally, toss in shredded rotisserie chicken, if the chicken is cold keep on stove until warmed through, if it's still warm turn off the heat and stir in the pasta.
Serve with a sprinkle of mozzarella on top.
Notes
Cut your time down even more by buying pre-sliced mushrooms.
When choosing your pasta sauce, look at the label, don't go for a variety that has added sugar, and don't buy kinds with 50 unpronounceable ingredients.
We buy Wegman's Diavola sauce and here's the ingredient list: Tomatoes (Crushed Tomatoes, Diced Tomatoes, Citric Acid), Water, Onion Puree, Extra Virgin Olive Oil, Salt, Roasted Garlic (Garlic, Soybean Oil), Crushed Red Pepper, Basil. Yup that's it, sounds like something you'd make at home right? But without the hassle.
Fresh greens can mean anything, from spinach to arugula to field greens.
Recommended
Tags: Healthy, Leftover Rotisserie Chicken, Chicken, Pasta, Dinners, Whole Grain, Easy Dinners