BLT Wrap with Avocado: Pureed to Perfection
Christina Lane | Dessert for Two
Ths secret to this creamy BLT wrap? Pureed avocado that stays in place and adds flavor to the entire meal.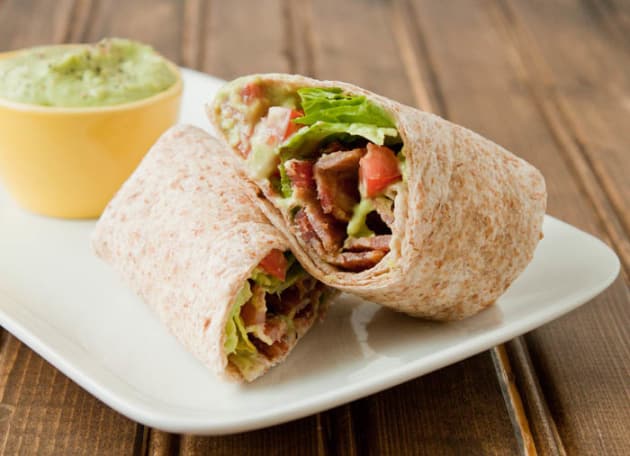 Saturday mornings are pretty special in our house. 
I make a big hot breakfast with all the good stuff: soft-boiled eggs, perfectly crisp bacon, toast points and the perfect cup of coffee, not brewed in a rush. And then I always make us extra bacon in preparation for the best Saturday lunch: a BLT.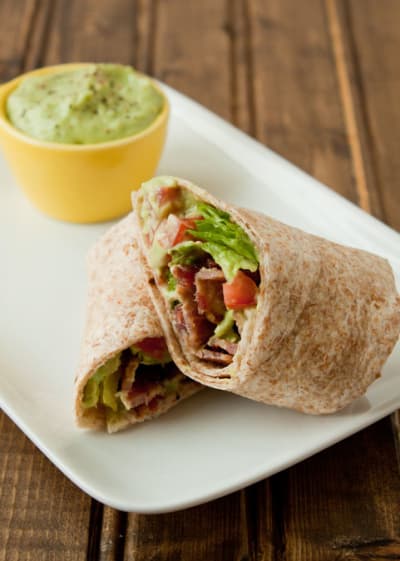 I thought I had perfected my BLT skills by adding sliced avocado. However, my avocado slices kept sliding out of my sandwich with each bite. 
So I decided to puree the avocado to make a creamy BLT and I ditched the bread for a wrap. It's perfection. It's everything Saturdays are meant for. Enjoy one today and then consider my Shrimp Po Boy Recipe for your next lunch!
Ingredients
6 thick slices Bacon
1 Avocado
1/2 teaspoon Peppercorn
1/4 teaspoon Salt
1/4 cup Mayonnaise
1 Tomato, diced
1 cup Romaine Lettuce
2 Whole Wheat Tortilla Wraps
Directions
Preheat the oven to 350°F.

°F

. Place a wire rack on a large baking sheet and lay the bacon slices on it.  Bake for 10 minutes. Flip the bacon, then bake for another 12 minutes or so. The bacon should stay moist and meaty, not crispy.
Meanwhile, mash the avocado with the cracked peppercorns and mayonnaise.  Set aside.
Make the wraps: lay each tortilla out. Place a scoop of the avocado peppercorn dressing on the lower third of the tortilla. Break the bacon slices in half and lay them horizontally on the tortillas.
Pile on half of the diced tomato and lettuce. Begin to roll up the tortilla with the edge closest to you, tucking in the sides as you roll up.
Repeat with remaining ingredients.  Serve any extra avocado peppercorn dressing on the side for dipping.
Tags: Cooking for Couples, Avocados, BLT, Sandwiches, Lunches