Baked Rosemary Chicken: Winner, Winner, What a Great Dinner!
Christina Lane | Dessert for Two
This rosemary chicken recipe makes for an ideal, gluten-free date night dinner. Cook to impress tonight!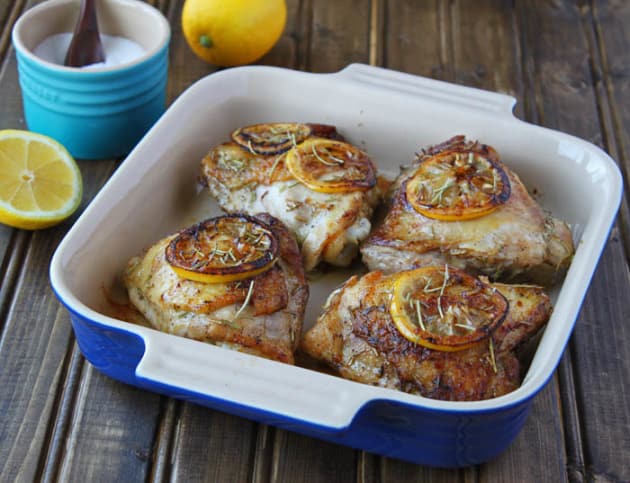 Everyone should have a great chicken dinner recipe up his/her sleeve. And this is mine: lemon rosemary chicken. It's easy, quick and no-fail.
For perfectly moist and flavorful meat, we're looking for bone-in skin-on chicken thighs. We're going to marinate the meat briefly, quick-sear on the stove top, and finish in the oven. Brown these gorgeous thighs skin side down first, and then flip them for even browning. It's perfectly okay to leave the lemon slices on after marinating. 
A quick marinade of olive oil, salt pepper, lemon and rosemary.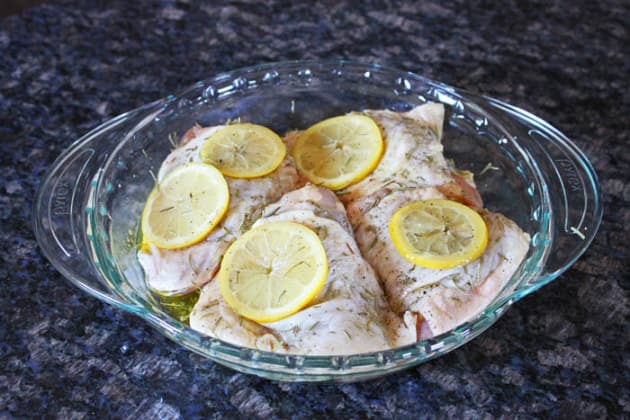 Pair it with a great vegetable side dish, such as the spring asparagus in the markets right now, and you've got a winner-winner-chicken-dinner.
Ingredients
4 large Chicken Thighs, bone-in, skin-on
3 tablespoons Olive Oil
1 tablespoon Dried Rosemary, dried
1 Lemon, sliced
1 teaspoon Salt
1 teaspoon Black Pepper
Directions
Place the chicken thighs in a dish.  Drizzle over the olive oil, rosemary, lemon slices, salt and pepper.  Cover and let marinate in the refrigerator for at least 30 minutes.  This can be done up to 4 hours in advance.
Preheat the oven to 350°F and have a small 8î x 8î baking dish ready.  Preheat a cast-iron pan over medium high heat.  When hot, drain each chicken breast of excess oil, and place in chicken thigh in the pan, skin side down.  It's fine to sear the lemon slices with the chicken. 
Once the chicken is golden brown (4-5 minutes), flip it and sear it on the other side.  Once both sides are brown, move the chicken thighs to the baking dish. 
Bake for 20 minutes.  Test the temperature in the deepest part of the thigh with a food thermometer - it should be 165°F.  If it isn't, return it to the oven for 3 minutes intervals, and re-test.
Let rest for 5 minutes before serving.  
 

Tags: Cooking for Couples, Chicken, Dinners, Easy Dinners, Chicken Thighs, Baked, Gluten Free