Orange Julius
Ashton Swank | Something Swanky Updated
This Orange Julius recipe calls for frozen bananes and yogurt. It's a cold, creamy treat!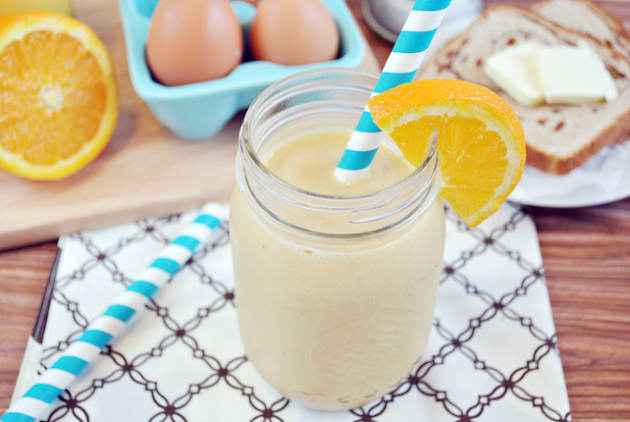 Until pretty recently, my two-year old daughter's diet has consisted primarily of ice cream, milk shakes, and Orange Julius.

Okay, wait, wait, wait. Before you send child services my way, you should know that ice cream roughly translates to "pulverized frozen fruit and yogurt," milk shakes to "pulverized frozen fruit and milk," and Orange Julius to... well, just good old fashioned Orange Julius!

The problem with my daughter isn't that she's a picky eater. It's that she's a disinterested eater. She'd rather be watching Dinosaur Train, playing princess, or running up and down the stairs in our building. Eating? Who has time for eating when you're two?! (Seriously, this cannot be my child!)

Fortunately, the girl does love her ice cream. So we've been able to blend up all sorts of healthy recipes into frozen slurpy treats that she can down in between laps around the sofa!

Our Orange Julius is a family favorite, and one that we don't feel guilty about about enjoying frequently.

Confession: I may have stretched the truth a little bit when I said it was a "good old fashioned Orange Julius." A lot of Orange Julius recipes call for sugar and ice, but we've taken to replacing those ingredients with frozen bananas and yogurt.

I actually think it makes for a creamier drink. And it turns out, Dairy Queen is doing the same thing!  Many locations now offer a banana and yogurt filled alternative to their classic Orange Julius.

So drink up! And don't feel bad about it, not one bit.

Tags: Copycat Desserts, Desserts, Drinks, Frozen Drinks, Fruit
Sign Up for Weekly Personalized Recipes. FREE!