Lemon Swirl Rolls
Kate Donahue | Food Babbles Updated
These lemon swirl rolls make for a delicious spring-time snack. Let the good times rise!
Warmer days have arrived and spring has finally sprung.
I don't know what it's been like where you live, but here on the East coast, spring took its sweet ol' time getting here. Each time we'd get a warm day, a blustery cold day or even snow would be right on its heels to whisk away all our hopes of warmth and outside activities. But thankfully, happy days are here again!
When I think about warmer days and the flavors associated with them, lemon is the most prominent one that pops to mind. Nothing quiet says spring like that bright, vibrant, fresh scent and flavor of lemon. It practically screams sun!
These little rolls are like capturing those rays, spring's sprouting flowers, and all the things that winter's departure brings with it. Soft and tender rolls with a swirl of lemon curd through them, announcing the arrival of bright days ahead. A swirl of raspberry jam would go nicely inside as well but my three-year-old vetoed that suggestion.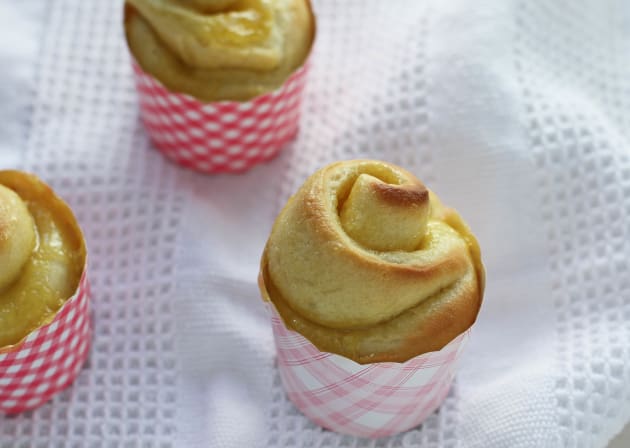 But lemon and raspberries pair oh so nicely together, I just couldn't resist sneaking some into a few. It was as perfect as I imagined it would be.
This dough comes together easily, and after a little patience during rising, they're simply rolled up and sliced before their second rise. Open your windows, let the sun and fresh air in, then toss these little rolls in the oven and bake up a bit of spring's brightness.
Ingredients
Dough:
2 1/2 teaspoons Instant Yeast
3 cups All-Purpose Flour
1/4 cup Sugar
1 teaspoon Salt
2 teaspoons Lemon Zest
1 Egg
1 tablespoon Unsalted Butter, room temperature
1/8 teaspoon Lemon Oil
Filling:
1/2 cup Lemon Curd
1/4 cup Canned Raspberry Jam
Lemon Glaze:
1 1/2 sifted cups Powdered Sugar
1 tablespoon Lemon Juice
1 tablespoon Lemon Zest
1 tablespoon Heavy Cream
Directions
In the bowl of a stand mixer fitted with a dough hook, mix the instant yeast with 3/4 cup warm water (105-115°F.) Set aside until yeast has dissolved and is bubbly, about 10 minutes.
Whisk together the flour, sugar and salt. Add the flour mixture and lemon zest to yeast. Mix on low just until moistened. Add the egg, butter and lemon oil. Mix until dough forms a soft, smooth ball, about 10 minutes.
Place the dough ball into a lightly oiled bowl, turn on all sides to coat and cover with plastic wrap. Set in warm room temperature to rise until puffy but not necessarily doubled in size, about 1 1/2 - 2 hours.
Gently deflate dough and transfer to a lightly floured work surface. Roll the dough to a 10-inch by 14-inch rectangle. Spread the lemon curd (and raspberry jam, if using) over the dough evenly, leaving 1/2-inch margin on the long sides.
Starting with one of the long sides, gently roll the dough up and end with the seam side down. Use a length of dental floss, cut the log into twelve pieces, each 1 1/2" wide. Place the rolls, spiral side up into paper cups sprayed with nonstick cooking spray. Cover the rolls loosely with plastic wrap and allow to rise again until puffy, about 1 1/2 hours.Preheat oven to 350°F. Removed plastic and bake rolls for 25-30 minutes until golden brown. Transfer rolls to a wire rack to cool completely.
Once cooled, combine all the glaze ingredients together in a small bowl. If the consistency is thicker than you'd like, add another 1/2 - 1 tablespoon heavy cream. Drizzle over the cooled rolls.
Notes
If using raspberry jam along with lemon curd, reduce lemon curd to 1/4 cup.
Recommended
Tags: Bread, Desserts, Baking, Fruit, Brunches, Lemons, Breakfasts