Grapefruit Jam
Tracy R. | Sugarcrafter Updated
Grapefruit Jam has just the right amount of tang to compliment a chilly morning, as we transition from winter to spring. Toast up some English muffins, because they're the perfect vehicle for this!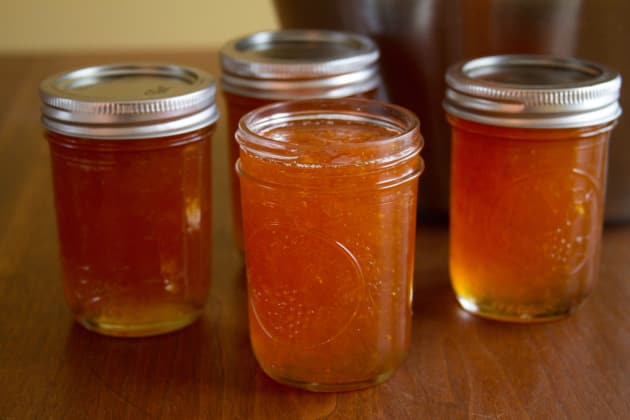 While many around the country are experiencing the first signs of spring, here in upstate NY, it's still very much winter… in fact, we won't see much fresh produce here that isn't grown indoors until near the end of April.
However, despite the still-frigid temperatures, a few days of sunshine had my mind wandering toward warmer days…and although citrus season is still in full swing, I decided to change up my normal canning routine by making a citrus jam rather than a marmalade, which always tend to be a bit more on the bitter side due to the inclusion of the fruit peel.
This grapefruit jam has just the right amount of tang, and once the prep work is done, cooks up rather quickly into a gorgeous ruby spread. I imagine it would be just as lovely with pink grapefruit or a combination of both red and pink, and I hope you'll give it a try.
Directions
Cut off the tops and bottoms of the grapefruit, and then cut each grapefruit into quarters. Using a sharp knife, cut the fruit from the rind and pith. Then, working over the pot you'll be using to cook the jam, separate the fruit into segments. Use your fingers to gently peel each segment from its surrounding membrane so that you are left with only the fruit.
Squeeze the membrane over the pot in order to collect any juices before discarding (or, collect the membrane, pith, and seeds in cheesecloth, bundled and tied at the top, to boil with the jam for some extra natural pectin). Prepare your canning supplies. Bring the temperature of the glass jars up by processing them in hot water for several minutes, and heat a few cups of water in a small saucepan for the lids.
Add the sugar to the grapefruit and over high heat, bring the mixture to a boil. Boil hard, stirring constantly, until the mixture reaches the gel stage, about 20 minutes longer. When you reach the gel stage, skim off any foam and ladle the hot jam into the hot jars, leaving 1/4″ headspace. Place the lids and bands on top, screwing on the bands just until fingertip-tight. Place the full jars back into the boiling water and process 10 minutes. Remove from the water and place the jars on a towel. Let the jars cool. The seals should suck down (you'll hear a popping noise as they do). Makes about 4 eight-ounce jars.
Recommended
Tags: Canning, Jams, Grapefruit, Fruit