Dairy Free Mocha Frappe: With Coconut and Chocolate Syrup
Jen Schall | My Kitchen Addiction
No dairy? No problem! You'll love this homemade coconut mocha frappe. It's the perfect afternoon pick-me-up!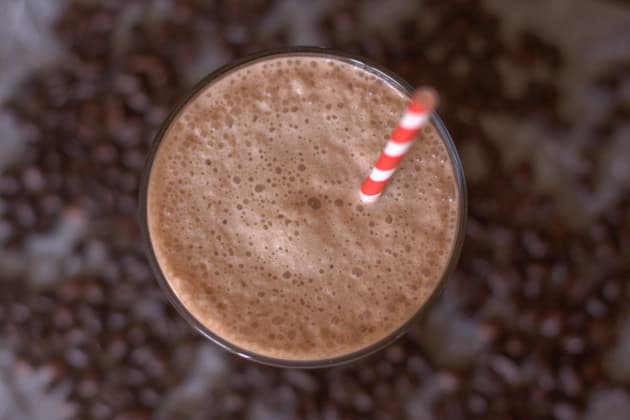 Life as a new mom is one that is full of change.
As someone who likes to be on top of things and keep life under control (read: I am a control freak), I am certainly learning to be a bit more adaptable than I used to be. Sure, I may want to run to Target, but if the baby is napping, my errands must wait.
Sometimes dinner is on the table, ready and waiting, at the end of the day… Other days, I have barely even thought about dinner when my husband walks into the kitchen after work. And, let's not even talk about how many days I don't get a shower before lunchtime.
Recently, one of the other changes I have had to adapt to is cutting dairy out of my diet. I suspected that it might have been upsetting my little girl's tummy, so I decided to eliminate it from my diet just to be sure. (As a side note, I previously had no idea that it's fairly common for a baby to have issues with dairy in mom's diet!)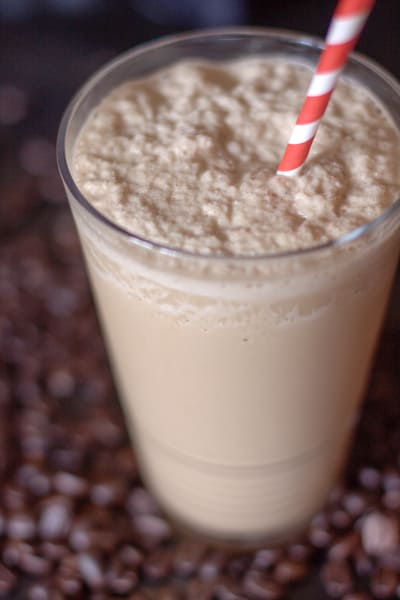 While I'm not someone who frequently drinks a glass of milk or eats a lot of yogurt or ice cream, there were still a lot of dairy-laden foods lurking in my diet. I could no longer bake with butter and my Friday night pizza recipe had to undergo a makeover. It also meant that my occasional trips to Starbucks were no longer an option.
On a recent afternoon when I was craving a frozen coffee drink, I decided to take matters into my own hands and make my own dairy-free beverage. I had some coconut milk in the fridge, so I decided to use that along with some chocolate syrup (which, just happened to also be dairy-free!) to create a frosty dairy-free coconut mocha frappe.
I used my French press to brew some strong coffee and threw everything in the blender. In no time, both my hubby and I were happily sipping on our frappes, not missing the dairy one bit. We also had the satisfaction of knowing that we didn't have to shell out $10 for our drinks!
Ingredients
2 1/2 cups Ice Cubes
1 cup Coffee, strong; cold or at room temperature
3/4 cup Coconut Milk
2 tablespoons Chocolate Syrup
1 tablespoon Granulated Sugar
1 teaspoon Pure Vanilla Extract
Directions
Combine all ingredients in a blender.
Cover and blend until smooth, pulsing to break up the ice (if necessary).
Serve immediately.
Notes
For a rich, creamy frappe, skip the light coconut milk. Of course, if you must, light coconut milk will certainly work in this recipe.

Tags: New Mom in the Kitchen, Coffee, Dairy Free, Drinks, Coconut, Vegan, Frappes, Gluten Free