Cookies and Cream Fudge
Aimee Shugarman | Shugary Sweets Updated
This Cookies and Cream Fudge will convince you to not wait for a holiday to make candy for your family. It's seriously so easy and delicious you will be running to the store to buy the ingredients today!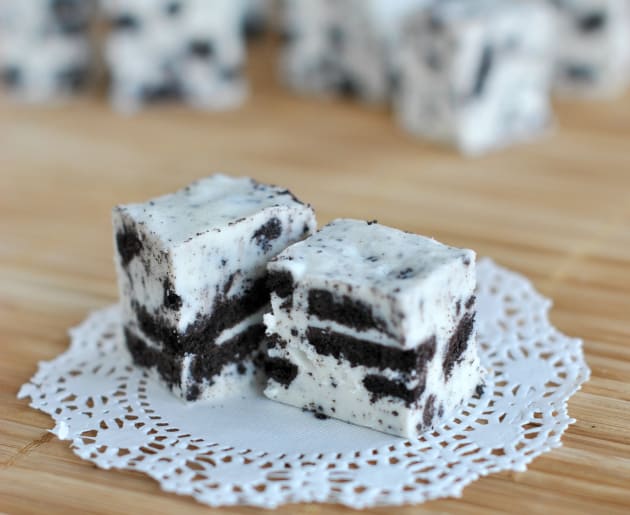 I have always been the neighbor or family member who brings fudge to every holiday get together.
Christmas? Everyone's doing it, totally normal! Valentine's Day? Well, chocolate is a perfectly acceptable gift to give!
Easter? As long as the fudge has PEEPS in it, why not?! Fourth of July? Yeah, that might be pushing it.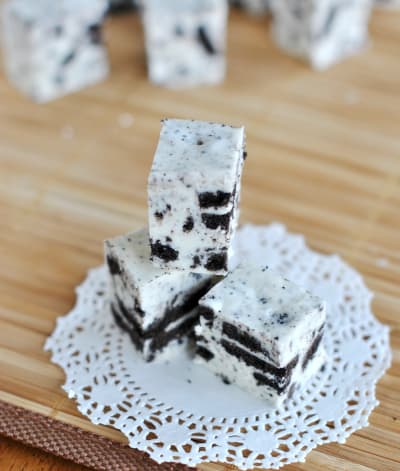 Cookies and Cream fudge, in my opinion, is a year-round treat! This version requires no candy thermometer, just a little stirring and more stirring, and don't forget to stir one more time!
I don't buy Oreo cookies very often to eat right out of the package. They are almost always viewed as an "ingredient," not a treat in our house. 
Needless to say, this week was no exception. When I came home with a package of Oreo cookies this week, my kids were skeptical. They knew not to touch them, but instead asked "how" will they be used, and will there be any leftover. Good news! This recipe doesn't use the entire package, so you can still dunk and enjoy all you like!
And be sure to put some of those pieces of fudge in your kids' lunch boxes. It makes their day so much better too! Go make this fudge today and don't wait until Christmas to enjoy this super creamy, Oreo treat!
Ingredients
1 cup Granulated Sugar
1/2 cup Heavy Cream
dash Salt
1/2 cup Unsalted Butter
2 1/2 cups White Chocolate Chips
7 ounces Marshmallow Fluff
20 Oreos, crushed
Directions
In a mixing bowl (with a stand mixer preferred), add white chocolate morsels and marshmallow crème. Set aside.
In a large saucepan melt butter with sugar, heavy cream and salt. Cook and stir over medium high heat until mixture begins to boil.
Continue stirring and boil for 5 full minutes. Remove from heat. Pour mixture into bowl over the white chocolate and marshmallow.
Beat with whisk for 1-2 minutes until white chocolate has melted and mixture is smooth. Fold in crushed oreos.
Pour fudge into a 9-inch square baking dish lined with parchment paper. Refrigerate 4 hours or overnight.
Remove from baking dish with parchment paper. Trim off edges (if you want perfect squares) then cut fudge into 1inch bite sized pieces.
Store in an airtight container in the refrigerator for up to two weeks.
ENJOY!

Tags: Homemade Candy, Candy, Desserts, Cookies, Baked, Chocolate, Oreos, Homemade Gifts