Chocolate Chip Donuts
Roxana Yawgel | Roxana's Home Baking Updated
These chocolate chip donuts are pretty much guaranteed to satisfy. They're soft, sweet and low in gluten.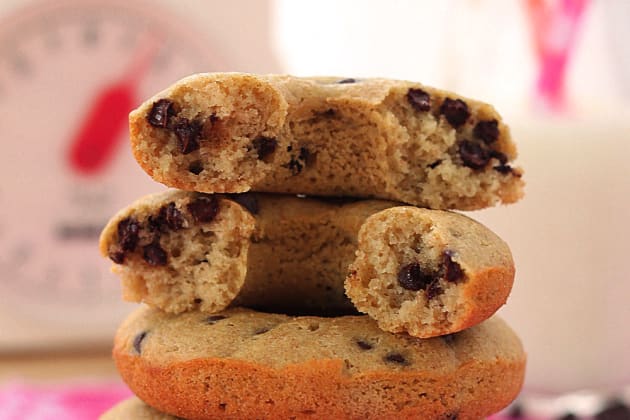 Making my own baked donuts was a little intimidating. I've tried a couple of times, but haven't got them just right. That was, until a couple of weeks ago.
Every Friday, I host a playdate at my house. Anywhere from three to 12 or more kids are a joy to have around, watching them learning to share and take turns, but with all that running and playing their little eyes start to look for a snack to energize. Add some chocolate to their snacks and they're all happy!
Baked donuts with chocolate chips come into the picture. I haven't met a kid that ever refused a donut, and the addition of the chocolate chips made them even more irresistible!
Not only do these donuts taste better than the ones bought from the store, but they are also really low in gluten. Double win! I didn't worry when my little one grabbed a second one.
I found the recipe on Janie's Kitchen, but I adapted it to fit my picky eaters. Instead of using just spelt flour as Janie's recipe called for, I used a mixture of spelt, quinoa, rice and sorghum flours. After a couple of trials I got them just right. Keep in mind that Spelt flour may be okay for some people with gluten intolerance, but it is still wheat. Ancient wheat, but wheat nonetheless.
Soft, cake like, without a starch taste from the rice flour, with a light nutty taste from the quinoa and packed with mini-chocolate chips.
Since I was using mostly gluten-free flours, I used some applesauce and greek yogurt as a binder to keep them moist longer (not that they stay around too long). And the best part, all you need to make these donuts is a mixing bowl, whisk and donut pan! No fancy equipment!
Ingredients
1/2 cup Applesauce
1/4 cup Sugar, in the raw
1/4 cup Plain Greek Yogurt
large Egg
2 tablespoons Grapeseed Oil
1/2 cup Spelt Flour
1/3 cup Quinoa
10 grams White Rice Flour
1 tablespoon Sorghum Flour
1/2 teaspoon Baking Powder
1/4 teaspoon Baking Soda
1/4 teaspoon Salt
1/2 cup Milk Chocolate Chips
Directions
Heat the oven to 325°F. Spray a regular size donut pan with baker's spray. Set aside.
In a mixing bowl add the applesauce, sugar, yogurt, egg and grape seed oil and whisk until combined. Add the flours, baking powder, baking soda and salt. Mix until just combined.
Stir in the chocolate chips. Spoon the batter into a frosting bag and cut the tip with the scissors. Pour the batter into the prepared pan filling them 3/4 full.
Bake the donuts in preheated oven for about 12 minutes or until a toothpick comes out clean.
Remove the pan from the oven, leave it to cool for about a minute until inverted it on a wire rack.
Enjoy!

Tags: Chocolate, Donuts, Desserts, Baked, Breakfasts