Chef Wanted Review: "Jet-Set Clientele"
Stephie Predmore | Stephie Cooks
Chef Wanted aired its season finale tonight. We run it down in our latest Food Fanatic review.
On the season finale of Chef Wanted, Anne Burrell worked with the owners of Nikki Beach, a line of international restaurants and resorts, to find an executive chef for their new Ibiza location.
The candidates:
Jouvens, executive chef from Miami, FL.
Colin, unemployed executive chef from Hawaii
Lauren, executive chef from Cincinnati, OH.
Asdel, sous chef from New York, originally from Morocco.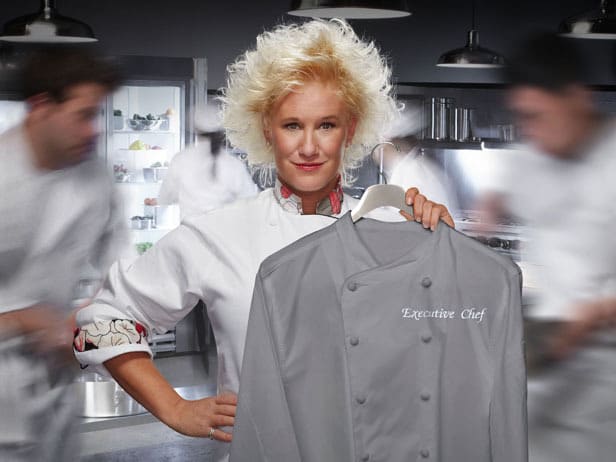 Test One: The chefs were tasked with creating a decadent, over-the-top platter that VIP guests could enjoy with a bottle of champagne – and money was no object. By my estimation, any chef should have been jumping at those words and doing their best to land this once-in-a-lifetime opportunity, but only one of the chefs really pulled out all of the stops in this test.

Jouvens started things off with a bang with his impressive Fire and Ice Tower – it is always a good sign when your "over-the-top" dish elicits gasps of awe. Colin created a seafood platter utilizing his Thai roots, which provided good flavors but a skimpy portion.

Lauren's seafood recipe/platter was good in theory, but lacking in dramatics. But it was Asdel that really disappointed; he completely disregarded the owners' instructions and overlooked decadence for mediocre flavor. Anyone who has ever watched this show – or interviewed for a job, for that matter - should know that that is a one-way ticket back home.

Test Two: The owners asked the chefs to create an elegant dish using local seafood. While it was timidity that tripped up the chefs in the first test, it was pure stress that proved to be the biggest foe in this one.

Colin was the only chef to truly please the owners with his Thai-inspired Fried Red Snapper with Tamarind Curry. Jouvens attempted a Grouper Sous Vide without access to a sous vide machine – a truly bad idea, as his dish looked lovely but severely lacked in good flavor; he was only saved because Lauren's through-the-roof stress level caused her to practically mutilate her snapper, and demonstrated to the owners that she was not ready for such a pressure-filled position.

Dinner Service
Dinner service proved to be a real rollercoaster ride for both of the final two chefs. While Colin started out strong, he did not set aside enough time to demonstrate to his staff how to properly cook his entrees.

As soon as Chef Anne saw them mutilating Colin's saffron risotto, she nearly blew her lid – and if there is anyone who knows how such a standout Italian recipe should be prepared, it would be Anne Burrell. Colin was able to pull things back together, though, and finish dinner service strongly.

Jouvens started dinner service with perhaps the most awkward staff introduction I have ever seen, received glowing reviews of his food during pre-service, and then quickly dipped back down with the realization that he did not prep nearly enough tuna for his tuna appetizer, a mistake that could have easily cost him the job. As is often the case however, keeping a cool head and maintaining control served him well, and he was able to go into main course service with control – a quality that impressed the owners and won him the job.

While this season finale was certainly not the most explosive episode of Chef Wanted (aside from Chef Anne's fit over the risotto), it was an good demonstration of how taking chances and keeping a cool head when facing problems can serve these chefs favorably in these job interviews. And when an undoubtedly well-paying job in Ibiza is on the line, that is certainly good thing.

NOTE: Bookmark us now for plenty more Food Network recipes!

Tags: Chef Wanted, Cooking Shows, Food Network