Andouille and Shrimp Jambalaya: Bring New Orleans Home!
Katie Jasiewicz | Katie's Cucina
This hearty stove-top version of Andouille and Shrimp Jambalaya can be cooked in under an hour. Bring a little slice of NOLA to your home!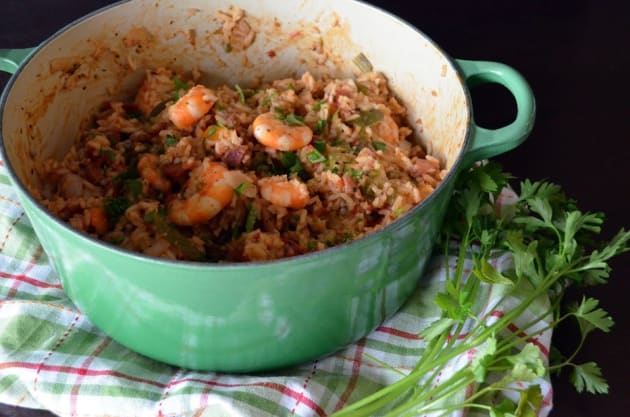 I visited New Orleans two years ago on a business trip. I will be the first to admit that I was never a big fan of Cajun food until my trip there.
It changed my taste buds forever (in a good way, of course). I indulged in Shrimp Po Boys, Crawfish Étouffée, the most divine gumbo in town, and, of course, no visit to NOLA would be complete without jambalaya. Glorious bowls of jambalaya.
I honestly spoiled myself, and sadly nothing can compare to what I consumed during that business trip in New Orleans.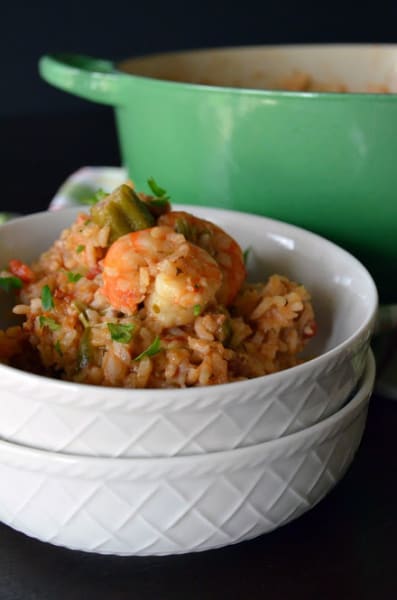 A few months after my trip I started scouring the Internet for Cajun recipes. The first thing I made was crock pot jambalaya. It was good... it sufficed... but it was definitely not the real thing.
My husband, on the other hand, (having never visiting NOLA before) thought it was the best meal I ever made. I enjoyed the set-it and forget-it slow cooker meal, but wanted to give it a try on the stove top using my beautiful cast-iron French oven.
I modified my slow cooker recipe to make a quicker stove-top jambalaya recipe that can be achieved in just under an hour. If you're a planner like me, you can pre-cut all of your ingredients the night before (while prepping dinner) and place it in a zip-top bag or container.
So remember, this may not be the most authentic jambalaya recipe on the block, but I think it's pretty darn close to the real stuff.
Ingredients
1 tablespoon Canola Oil
4 links Andouille Sausage, diced
2 medium Bell Peppers, green and orange
1 medium Onion, diced
2 cups Okra, diced
1 28-ounce can Diced Tomatoes
2 teaspoons Oregano
2 teaspoons Cajun Creole Seasoning
1 teaspoon Hot Sauce
2 Bay Leafs
1/2 teaspoon Dried Thyme
2 cups Long Grain Rice
2 1/2 cups Chicken Broth
1 pound Shrimp, peeled and deveined
Fresh Parsley, for garnish
Directions
In a large stock pot add one tablespoon of canola oil (medium heat). Then add sausage, bell peppers, onion, celery, and okra. Cook for 10 minutes.
Add the diced tomatoes, dried oregano, creole seasoning, hot sauce, bay leaves, and thyme to the stock pot, stir well, and cook for 10 minutes (with lid) on medium heat.
Add rice to the pot and mix well. Then add 2 cups of chicken broth--mix until everything is incorporated. Place lid on pot and cook (medium heat) for 10 minutes (stir 2-3 times during the rice cooking process).
Add shrimp to the pot, mix well and reduce the heat to medium-low. Cook an additional 10 minutes. Then stir the rice mixture. Add an additional 1/2 cup of chicken broth, place the lid on and cook for 5 minutes. Then remove the lid, mix well, and cook an additional 5 minutes with lid off if needed.
Serve in bowls and garnish with fresh parsley.
Tags: One Pot Meals, Jambalaya, Sausage, Shrimp, Dinners, Cajun, Seafood