Starbucks Chocolate Cinnamon Bread
Ashton Swank | Something Swanky Updated
This Starbucks Chocolate Cinnamon Bread is sweet and delicious. Read on for a simple recipe!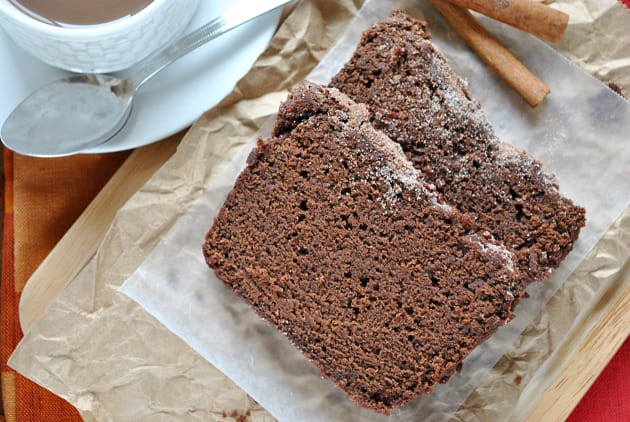 Every day, I have the same daydream over and over again. I dream that once my daughter is in bed, I'll spend maybe half an hour cleaning the apartment and then be able to curl up in a blanket on the couch with my laptop, a great sitcom, and something yummy to leisurely stuff in my face.
I'm crazy over the thought of a cozy evening to myself, during which I'll get everything done and still have time to re-read a little Twilight.
It's become an obsession, really.  And I'm obsessed with anything I can think of that will help make this dream a reality. Carbs are at the top of my list. They star prominently in my little fantasy. Because, really, what could be cozier and more relaxing than a fistful of carbs? Chocolate carbs. Chocolate carbs with cinnamon.
Ah, yes. That's what I'm looking for
This copycat Starbuck's Chocolate Cinnamon Bread quite literally made my dreams come true... or at least it incapacitated my ability to even have another dream beyond another slice of bread. It's fudge-y decadence cannot be overstated. But don't be lured into a false sense of security, because I don't mean "decadent" as in "too rich to eat more than just one slice."
I can assure you, with plenty of experience to qualify me, that those rich chocolate and cinnamon flavors will not be so overpowering that you won't want to go back in for a second slice. And then a third. And then... you get the picture.
I haven't even told you about the best part: the topping. It's sugary with a little crispy-crumbly thing going on, and a whole lotta good. And I'm pretty sure it has magical powers. When I took my first bite, my two-year old daughter with a speech delay walked up to me and said, "Mom, I love you. You're very beautiful." Followed by, "Share chocolate?"
Flattery? Full sentences? Yes, this bread definitely has powers.
(Looking for more copycat Starbucks bread? Check out this Starbucks Pumpkin Pound Cake!)
Ingredients
Chocolate Bread Batter:
1 1/2 cups Unsalted Butter
3 cups Granulated Sugar
5 large Eggs
2 cups Flour
1 1/4 cups Dutch Processed Cocoa
1 tablespoon Ground Cinnamon
1 teaspoon Salt
1/2 teaspoon Baking Powder
1/2 teaspoon Baking Soda
1 cup Buttermilk
1 teaspoon Pure Vanilla Extract
Cocoa Spice Topping:
1/4 cup Granulated Sugar
1/2 teaspoon Cinnamon
1/2 teaspoon Dutch Processed Cocoa
1/8 teaspoon Ground Ginger, ground
1/8 teaspoon Ground Cloves, ground
Directions
Preheat oven to 350 °F.
Line two 9 x 5 x 3 loaf pans with parchment paper, then lightly spray with nonstick cooking spray.
Beat the butter and sugar in a stand mixer until cream. Add the eggs, one at a time, mixing in between each addition.
In a large bowl sift together flour, cocoa, cinnamon, salt, baking powder and baking soda.
In a separate bowl, whisk together the buttermilk, 1/4 cup water and vanilla.
Alternately and gradually add the wet ingredients and the dry ingredients into the stand mixer bowl (add some of the dry mixture, then some of the wet, then some of the dry, etc...), mixing in between each addition.
Divide the batter evenly between the two loaf pans.
In a small bowl, combine the sugar, cinnamon, cocoa, ginger and cloves, and sugar. Sprinkle evenly over the top of the batter in both pans.
Bake for 50-60 minutes, or until a toothpick inserted comes out clean (well... almost clean. This bread is pretty fudgy, so there may be a little chocolate that comes up with the toothpick. You'll know it's done when the bread feels "set." It shouldn't be "jiggling" when you move the pan).
Recommended
Tags: Copycat Desserts, Starbucks, Desserts, Baking