Shrimp Po Boys
Christina Lane | Dessert for Two Updated
A Shrimp Po Boy is a New Orleans tradition. And now you can make it a tradition in your very own kitchen!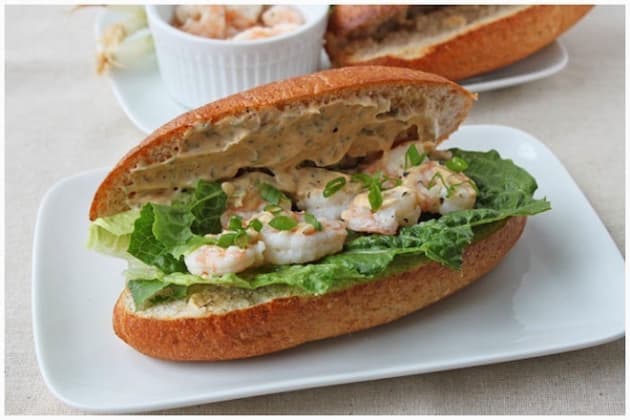 On our last trip to New Orleans, we learned a few things about po' boys:
Po' boys are worth walking miles for. If the trolley breaks down on the way to your favorite po' boy shop, and the driver yells at you to get off, you get off and start walking. Don't take your eye off the prize: the piping hot po' boy.
Po' boy ingredients vary by the day. If your po' boy maker didn't like the look of oysters that morning on the dock, he won't buy them. And there won't be oyster po' boys that day.
When ordering a po' boy, order it dressed. You yourself do not have to be dressed to eat one.
Not all po' boys contain fried seafood. A lemon garlic butter sauce is a delicious alternative.
You can make po' boys yourself at home. It's true!
A hot po' boy is a favorite weekend lunch for me. I start with a soft wheat roll. They look like puffier hot dog rolls. In New Orleans, they use a super soft French bread roll.
I split the rolls, and then lightly butter the insides. While they toast, I whip up a spicy mayo sauce. I gather up my cold ingredients for dressing. And then, when everything else is ready, I start cooking my shrimp. Your goal is hot shrimp and cold dressing ingredients. Since we're only making two po' boys, this shouldn't be a problem.
Ingredients
2 wheat rolls
1 tablespoon Butter, softened, divided
1/3 cup Mayonnaise
2 teaspoons Cajun Creole Seasoning
6-7 ounces Shrimp, cleaned and tail-less
1/4 teaspoon Garlic, fresh, chopped
Salt, to taste
Black Pepper, to taste
2 tablespoons Lemon Juice
Onion, chopped, to taste
Tomato, chopped, to taste
Directions
Split the wheat rolls and butter the insides with half the butter. Toast the bread in a warm oven.
Meanwhile, stir together the mayonnaise and Cajun seasoning and set aside.
Preheat a small skillet over medium-high heat. Add the remaining butter to the skillet. When it starts to sizzle, add the shrimp and garlic. Add a pinch of salt and pepper. After 1 minute, stir the shrimp and let them cook on the other side for another 1-2 minutes. Do not overcook. When done, add the lemon juice and stir.
Assemble sandwiches: To each side of the bread, spread the mayonnaise mixture. Top with lettuce, shrimp, then onionsand tomatoes. Serve hot.
Tags: Cooking for Couples, Sandwiches, Lunches, Shrimp, Cajun