Muddy Buddies Bars
Karly Campbell | Buns in my Oven Updated
Muddy Buddy bars are guaranteed to satisfy even the pickiest peanut butter-lover. Read on for an easy recipe!
I have a confession to make: I'm the type of person that makes Puppy Chow (also known as Muddy Buddies!) and doesn't use much powdered sugar.
I know! You're wondering what is wrong with me! I mean, sugar is fabulous. It's pretty much my life's goal to add more sugar to all of the things. But when it comes to puppy chow, I like the chunks and the powdered sugar tends to eliminate those.
There is pretty much nothing better than reaching into a bowl of Puppy Chow and coming out with this huge clump of chocolate peanut butter goodness. Agreed?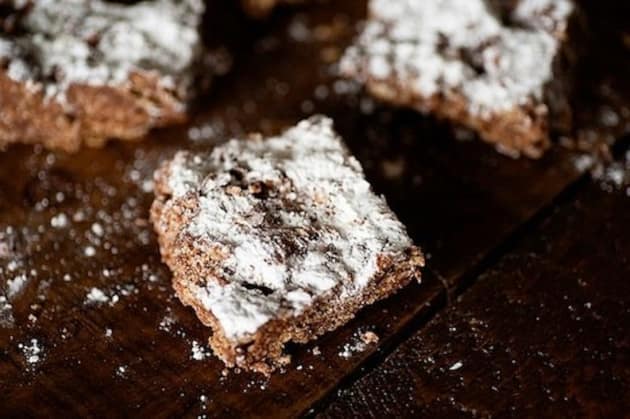 So, it was only natural that I eliminated the little sissy single pieces of Puppy Chow and turned the whole thing into one big chunk of heaven, right?
I added in some marshmallows, for extra holding power, but I literally counted them out and only used 10 marshmallows. I love marshmallows as much as the next girl, but I really didn't want to take away from my Puppy Chow flavor. I'm happy to report that you will not get even a single whiff of marshmallow in these little bars. Just pure, unadulterated Puppy Chow love.
NOTE: For more sweet deliciousness, check out my cookie bars recipe!
Ingredients
6 cups Chex Cereal
10 Marshmallows
1 1/2 cups Chocolate
1 cup Peanut Butter
Powdered Sugar, for topping, about 1/4 cup as desired
Directions
In a large stock pot, melt the marshmallows over low heat. Stir in the chocolate chips and peanut butter until melted and well combined.
Stir in the cereal to coat.
Press the cereal mixture into a greased 9x13 pan. Use a sheet of parchment or wax paper to really push the cereal down so that it holds it shape well.
Sift powdered sugar on top of the bars. Let cool completely before cutting.
Store in the refrigerator for a firmer texture or at room temperature for a softer texture.
Tags: Bar Desserts, Baking, Desserts, Easy, Muddy Buddies