Marinated Olives
Emily Caruso | Jelly Toast Updated
Marinated olives with citrus and chili are so easy, you're going to love them! They're fancy enough to serve at your next cocktail party but delicious enough to eat in front of the TV.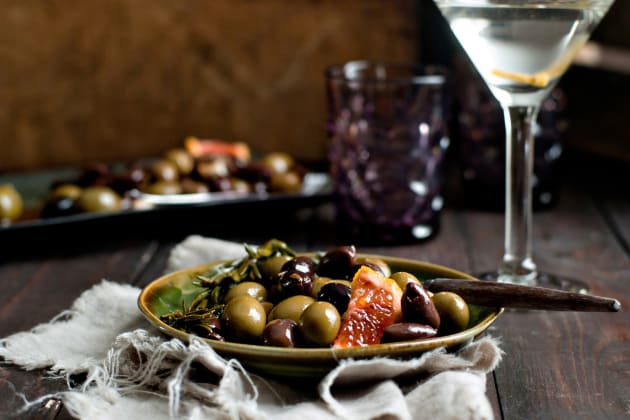 It's not uncommon to find me perusing the olive bar at the supermarket. I find that my cart just happens to steer me closer and closer until I'm so close that it would be a cryin' shame not to take a little peak. It would also be a shame not to take just a small container home. It might even be considered rude not to.
So, imagine my sheer joy when I realized that marinating your own olives, complete with your own flavor combinations, is a total breeze. I don't quite know why I had never done this before, but it completely blew my mind when I began imparting all sorts of flavors into my beloved little olives. Things that never seem to grace the supermarket olive bar are now totally within the realm of possibility. Enter: Citrus and Chili Marinated Olives. Oh yes, you read that correctly.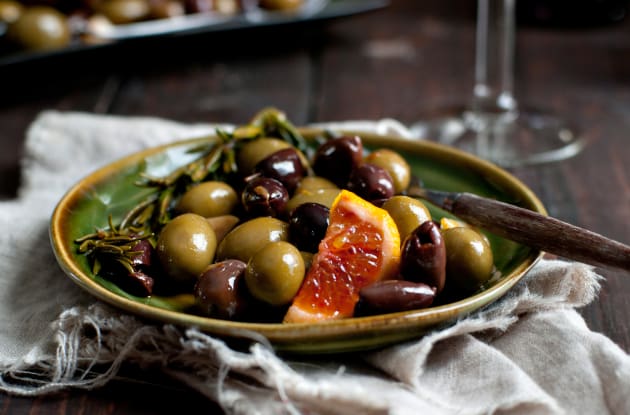 I have a real thing for sweet and spice, as previously showcased in my favorite BBQ Chicken Wings recipe, and I figured it would be the perfect flavor combination to infuse into a beautiful batch of olives.
I'm sure I'm not alone in my love of flavor packed recipes that are a cinch to pull together. Who doesn't love a good and tasty time saver?
These Citrus and Chili Marinated Olives are exactly that. Packed with sweet, tangy citrus and a touch of spice, they are shockingly easy to make. Seriously, if you can warm up some olive oil, you can make these olives.
These marinated olives are sophisticated enough for your next cocktail party, especially when paired with the James Bond-esque Vesper Cocktail, but also so completely yummy you will find yourself eating them by the bowlful while watching Casino Royale on your DVR. Or maybe that's just me...
Either way, these Citrus and Chili Marinated Olives are a sure thing and the perfect secret weapon for any gathering. Get it? Secret weapon? Okay, forget I said that. Just go ahead and make these, you won't regret it.
Enjoy!
Ingredients
1/3 cup Olive Oil
5 cloves Garlic, peeled and cut in half
1 teaspoon Crushed Red Pepper
1 1/2 teaspoons Paprika, smoked
1 sprig Fresh Rosemary
1 small Orange, sliced, peel on
2 cups Olives, unpitted
Directions
In a small sauce pan, heat olive oil, garlic, pepper flakes, paprika, rosemary and orange slices over medium-low heat.
Allow mixture to slowly become hot, without frying garlic and rosemary. When Oil is hot (about 5 minutes) add olives and stir to coat in oil.
Cook olives for 3 minutes, stirring frequently. Remove from heat. Allow olives to steep in seasoned oil until completely cool, tossing mixture occasionally.
Serve olives warm or at room temperature.
Notes
Olives can be made ahead of time and stored in the fridge.
Allow olives to come to room temp before serving.
Olives can be reheated in a sauce pan before serving as well.
I use a medley of green and Kalamata olives.
Tags: Vegetables, Appetizers, Healthy, Easy, Low Carb