Kale Pesto
Julia Mueller | The Roasted Root Updated
Kale pesto is fast, easy and extremely healthy. Learn our quick recipe now!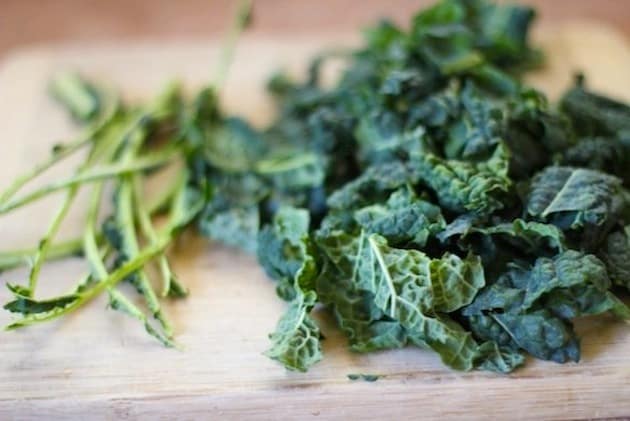 Chances are your household has been hit with the Busy Bug Pandemic that is sweeping through the nation.  
The spirit of forgetfulness which seems to coincide with the Busy Bug Pandemic has likely necessitated copious apologies, Edit Undo's, and batches of "I'm sorry, I forgot" baked goods. Luckily the spirit of forgiveness comes easy when the spirit of forgetfulness bakes it a batch of chocolate chip cookies.
During the times that you watch your busy list lengthen and your memory falls through the cracks, convenience not at the expense of nutrition is the ticket to clearing the cobwebs and staying on task. This kale pesto requires only seconds in the food processor and then is immediately ready for use. Convenient? Check! Nutritious? Check!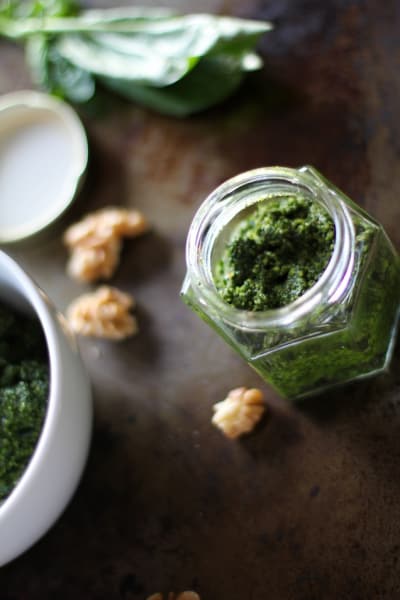 This pesto sauce can be used for pastas, pizza sauce, as a marinade for chicken or fish, and as a spread for sandwiches. The sauce can easily be made vegan by leaving out the parmesan cheese. I made the pesto without cheese and found it to be delicious. 
Kale pesto is chocker block full of nutrients. Kale has a high concentration of Vitamins K, A and C, is full of antioxidants and contains no fat. Balance this with the healthy fats from the olive oil and walnuts, the fresh and delicious flavors of the basil and garlic and you have yourself a very healthful, versatile, delicious sauce. 
Depending on your intention for the sauce, the amount of oil used can be scaled up. I made the pesto for the sole purpose of spreading it on sandwiches, so I left it thick (I used ¼ cup of olive oil). For flavoring pasta or drizzling on top of appetizers, more oil will be necessary to reach desired consistency. You can also make the pesto in bulk and freeze it so that it can be thawed and put to use later.
When your To Do list forms its own To Do list and then promptly stages a coup, you need yourself some kale pesto sauce.
Ingredients
5 cups Kale Leaves, packed
2 cups Fresh Basil Leaves, loosely packed
5 cloves Garlic
1/2 cup Walnuts
1/4 cup Olive Oil
1/4 teaspoon Salt, to taste
1/2 cup Parmesan Cheese, optional
Directions
Wash and pat dry the kale and fresh basil.
Remove and discard the kale stems, give the kale leaves a rough chop and add them to a food processor along with the basil, garlic, walnuts and parmesan cheese.
Pulse 5 or 6 times to get everything chopped up.
Turn the food processor on and slowly add the oil while the processor is processing.
If you added ¼ cup of oil, you will end up with thick, spreadable pesto. You can stop here or if you desire a thinner consistency to use the pesto as pasta sauce, continue adding oil (about an additional ¼ cup) until the pesto reaches the consistency you want.
Use immediately or refrigerate for up to 1 week (you can also make the sauce in bulk and freeze it for later).
Notes
If using the pesto as pasta sauce, use about ½ cup of oil or more to get the sauce to desired consistency. I used only ¼ cup of oil to get a thick, spreadable pesto for sandwiches!
Recommended
Tags: Vegetarian, Sauces, Healthy, Side Dishes, Gluten Free, Italian, Kale, Pesto