Italian Sausage Bake
Katie Jasiewicz | Katie's Cucina Updated
This Italian sausage bake can be concocted in one pot - and is guaranteed to fill you up with hearty goodness. Hooray for easy weeknight dinners!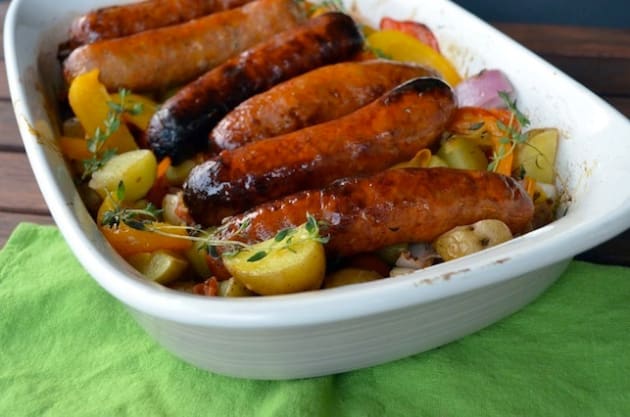 Do you ever dream of a recipe? I find that I often dream about food.
I just so happened to dream up this recipe for Italian Sausage Bake. Since most of the time you only remember about 1% of an actual dream, this is what I would like to think the dream was about.
I dreamed I was in the kitchen and craving Italian food. I wanted a hearty meal for a Sunday supper and I wanted to use up quite a bit of produce I had on hand. I also wanted to give my husband the evening off from doing dishes, so I knew I needed to make this a one-pot meal.
Get where I'm going with this dream? A hearty one-pot meal fit for any weekend supper. To be honest, my Spicy Italian Sausage bake doesn't have to be reserved for a weekend supper. It can be cooked on a week night. That's when I made this dish: after a busy day at the office. We may or may not have eaten dinner around 9 that night (but let me just tell you it was well worth the slow-roasting wait).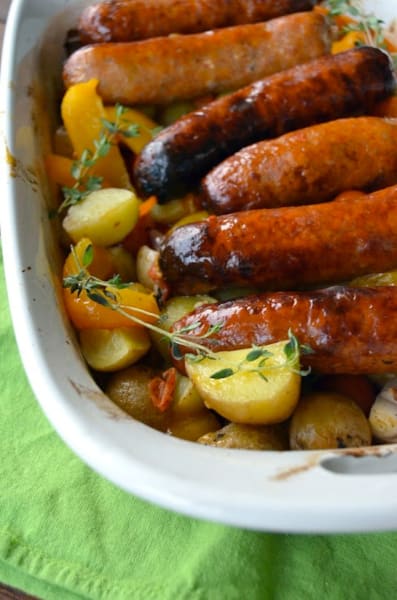 The baked sausages taste just as good as my Grilled Italian Sausage with Grilled Sweet Peppers. Oh, and did I mention that the flavors develop even more if you happen to use leftovers. Both the first and second time I made this recipe it was just my husband and I dining on this baked gem.
Each time we ate more than our share in servings, leaving us with a small amount of leftovers for work the next day. Whether you are entertaining or just want a simple meal, my spicy Italian sausage bake is sure to please any crowd!
(NOTE: For a similar meal, check out this Paleo sausage and cauliflower rice recipe!)
Ingredients
1 pint Grape Tomatoes, red and yellow variety
1 pound Honey Gold Potatoes, quartered
2 large Bell Peppers, chopped length-wise 1-inch
1 large Red Onion, quartered
1 tablespoon Olive Oil
3 cloves Garlic, roughly chopped
6 links Italian Sausage, spicy
5 sprigs Dried Thyme
Salt, to taste
Black Pepper, to taste
Directions
Preheat oven to 400°F.
In a large baking dish, toss grape tomatoes, potatoes, bell peppers, and red onion with one tablespoon olive oil and chopped garlic.
Mix well until incorporated and salt and pepper to taste.
Place the sausage links on top of the vegetables. Place sprigs of thyme throughout the dish. Cover with foil and bake for 90 minutes.
Remove tinfoil from baking dish, mix vegetables around, and bake for an additional 30 minutes until sausage is golden brown. (*You may need to turn the sausage to prevent from burning). Serve immediately.
 

Tags: One Pot Meals, Sausage, Dinners, Easy Dinners, Roasted, Italian